Norway is impossibly beautiful, and with some of the most dramatic scenery on earth, it's a nature lovers paradise. But, when is the best time to go?
When it comes to breathtaking scenery, modern cities, warm and friendly locals, and a mind-boggling Viking-history, Norway ticks all the boxes. Blessed with staggering fjords, imposing peaks, grand glaciers and astonishing Arctic wonders, the country is a postcard-perfect playground for the adventurous. As for the locals, Norwegian's are warm and hospitable, eager to share their culture, cuisine, festivals and photogenic cities with all who venture north.
Norway's landscapes are just as incredible in the winter as the summer, so there's no bad time to go.
Winter is an amazing season to experience Norway. The Northern Lights dance in the sky, Christmas is celebrated with festive lights and markets, the lakes freeze, most of the north is blanketed in white snow, and all kinds of winter activities are on offer, from snowshoeing to skiing, dog sledding and snowmobiling. The Arctic landscapes around Tromsø and Honningsvåg, the northernmost city in Norway, are some of the best places to witness the Northern Lights.
Winter is a peak travel period in the north of the country, but further south, the short days and chilly weather deter foreigners. The cities of Trondheim and Oslo still buzz in the winter, but temperatures are bitterly cold and many services are reduced outside of the cities. The upside is that you won't be battling many other tourists.
Up north above the Arctic Circle, Tromsø and Honningsvåg average around -1 degree celsius during winter, but temperatures can plummet well below that. Both Trondheim and Oslo hover around 0 degrees at this time of the year, and sunlight hours are at their lowest.
Spring in Norway tends to be very short, thanks to the long winter, but its arrival brings spectacular wildlflowers, flowing rivers and waterfalls, and a burst of colour to the landscapes. The hours of daylight increase gradually but temperatures, though sunnier, can still be on the cool side. Conditions in the far north average around 7 degrees celsius near the North Cape town of Honningsvåg, and 9 degrees in Tromsø. Trondheim stays around 13 degrees and Oslo slightly warmer at around 17 degrees.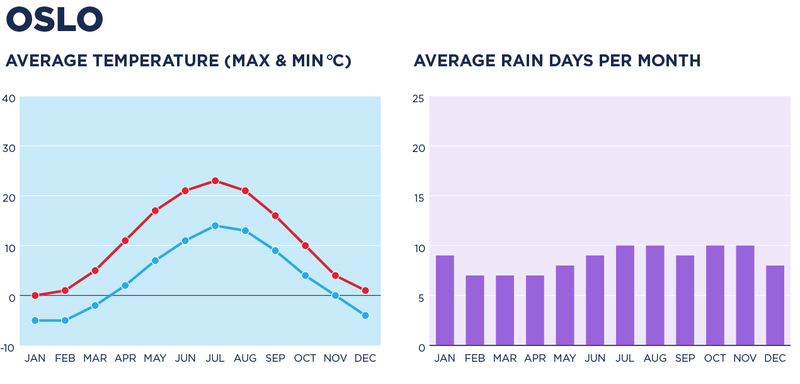 Summer is peak period, especially for visiting the mountains, fjords, and valleys further south in Norway. A cruise on magical Geirangerfjord or a journey on the famous Flam Railway is simply spectacular at this time of the year, when the days are long and the sun shines. In the north, Norway is truly the land of the Midnight Sun and it shines all day and night long; experience it on a midnight boat cruise, surrounded by epic Arctic landscapes.
Summer doesn't necessarily equate to hot weather in Norway however, and its latitude close to the Arctic means days may be long and sunny, but still quite mild.
In Oslo, temperatures average around 23 degrees celsius, with some rainfall. Further north, Trondheim stays around 20 degrees, with perfect weather for indulging in the local food scene they're so passionate about. In the north, Tromsø averages around 16 degrees, and Honningsvåg around 13 degrees.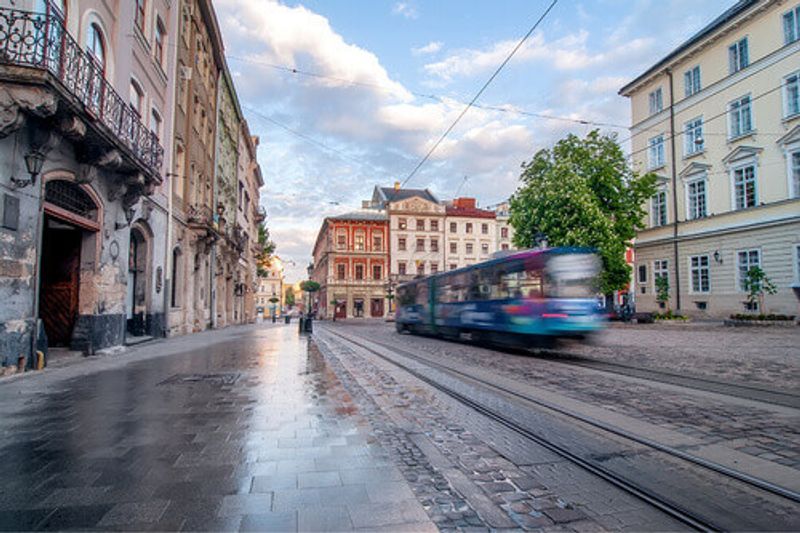 Foodies and photographers love autumn in Norway; the forests turn beautiful shades of red and gold, and the harvest season produces a rich food scene favouring local ingredients and slow-cooked, colder climate dishes.
In the north, the reindeer are returned to their winter pastures – a sight to be relished near Honningsvåg – and the days slowly get shorter, before rain turns to snow in November.
Oslo, with its cutting edge architecture, thriving arts scene and cool culture is a great place to be in autumn, with temperatures around 10 degrees celsius in October. Trondheim will also be around 10 degrees, with plenty of bars and restaurants to spend time indoors, while in the north, things start to get chilly and temperatures drop to around 5 degrees.
There's no question that Norway bewitches travellers with its beauty, regardless of the season.
When will you go?
Where else do you want to visit?