From March to April every year, millions head to Japan to see their famed cherry trees shower the landscape in pink and white petals
The annual blooming of sakura (cherry blossom) trees in Japan is a sacred occurrence that has been celebrated for over 1,000 years. While its origins are somewhat disputed, with some sources pointing to the 3rd century and others to the 9th, it's generally agreed that the earliest hanami (flower viewing) parties were reserved for imperial aristocrats and later, the samurai class. By the turn of the 17th century, cherry blossom season was widely celebrated by ordinary folk and today, millions of locals and international visitors flock to Japan in March and April to see the blooms and join in the sakura festivities.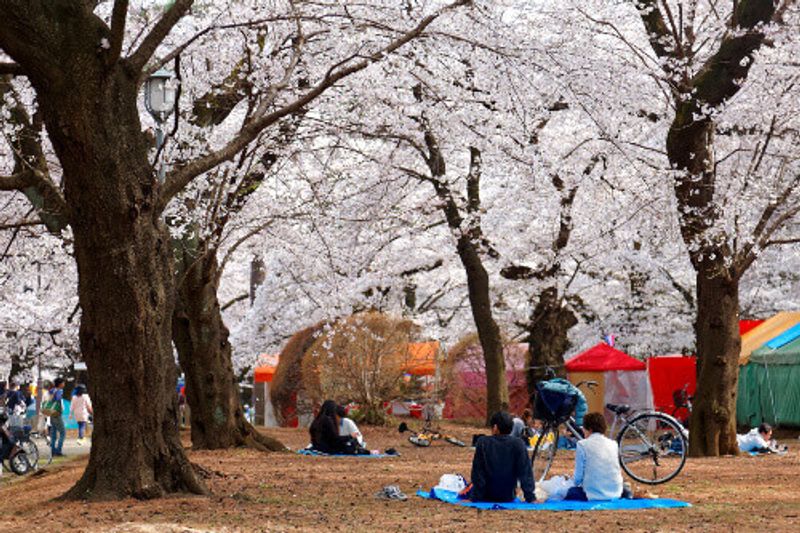 Why is cherry blossom season such a big deal in Japan?
These days, tourists visit Japan during sakura season to see the country's most famous sights showered in delicate petals. But for the Japanese, the season has a much deeper significance. In addition to being appreciated for its splendid appearance, it has also come to symbolise the ephemeral nature of life and its fleeting beauty.


EXPLORE OUR INSPIRING JAPAN SMALL GROUP TOURS HERE


In Japan, Shinto and Buddhism are the dominant religions, with many people identifying as both. While the beliefs differ in some areas, many of the main ideas are shared between Shintoists and Buddhists, including the worship of nature and life's impermanence. The short-lived bloom of sakura embodies this principle; it is a stunning yet temporary sight that, at the height of its beauty, quickly vanishes.
When do the cherry trees bloom?
Cherry blossom season is an annual event that occurs every spring, however the exact dates of the bloom vary from year to year, based on weather conditions. A warm spring often leads to early kaika (flowering), while cold temperatures might lead to late blooms. The one thing that's guaranteed is the pattern of blooming, with the sakura zensen (cherry blossom front) starting in the southern islands near the beginning of the year and heading north, as late as May. For visitors wanting to see the deciduous trees flower in Japan's most popular cities, Kyoto and Tokyo typically bloom in the last week of March and first two of April.


As the cherry blossom season is big business in Japan, its prediction has become a suitably grand affair, involving scientists, mathematic equations and many of the country's leading meteorologists. For those wanting up-to-date information, the Sakura Navi app – developed by the Japan Meteorological Corporation – allows people to track the cherry blossom zensen in real time, alerts them when they're near a viewing spot and contains blooming forecasts for the entire country.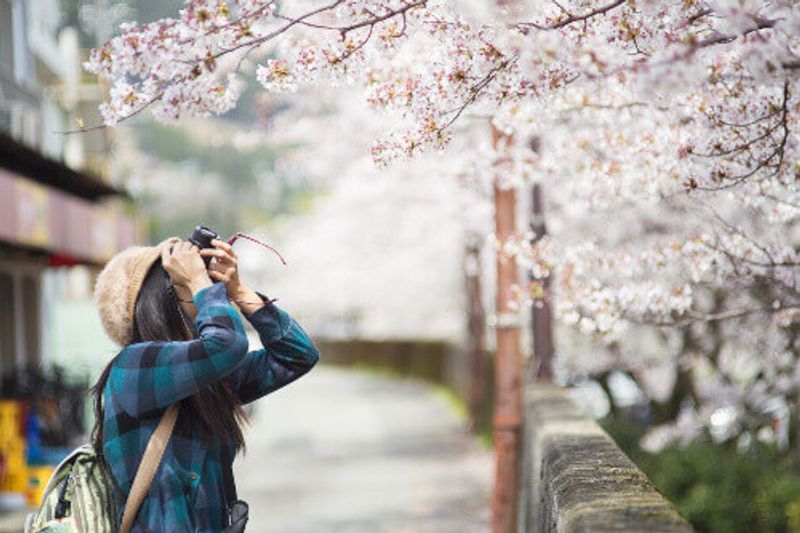 Best place to view the cherry blossoms?
Traverse Japan in early April and you're in with a great chance of seeing cherry trees in bloom, however the best spot to bask in their beauty requires a detour. Yoshino, a relatively quiet town east of Osaka, explodes in population when the sakura zensen arrives. The town has long been one of the most popular to visit during spring as it's home to 30,000 cherry blossom trees, which blanket the mountainous region in pink and white.


In Tokyo, there are many places to spot sakura. Head to Chiyoda in central Tokyo, where hundreds of sakura trees line the edge of the Chidorigafuchi Moat, beside the imperial palace. Those looking for a perspective away from the crowds should rent a boat and paddle down the waterway.


Just as Kyoto is known for its beautiful temples and shrines, it's also renowned for its blossom displays. Ditch the crowds at Kiyomizu-dera and set up your own hanami on the sakura-lined banks of the Kamo-gawa River, or visit the often-overlooked Konkai Komyo-ji Temple.
Which events take place during cherry blossom season?
Japanese people love a celebration, with hundreds of thousands of matsuri (festivals) taking place around the country every year. From giving thanks, to praying for a good harvest, there's a festival to commemorate any occasion and when March arrives, the matsuris turn their focus to all things pink and floral.


Travel anywhere with flowering sakura trees and you're bound to find people partaking in hanami celebrations, so grab a bento box and set up camp under a blossoming tree to bask in the beauty of the season. If you're interested in a larger event, Tokyo's Ueno Park hosts one of Japan's largest cherry blossom festivals. With over 1,000 trees, food stalls and night-time illumination, it's no wonder the park is a popular hanami spot for locals and visitors alike.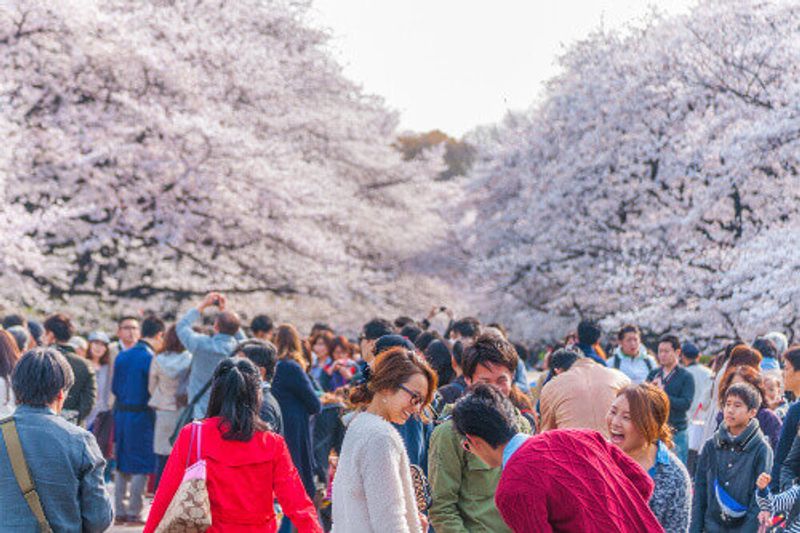 What special treats are available during cherry blossom season?
Japanese food is heavily centred around the seasons, with offerings dependant on fresh produce and seasonal flavours. The arrival of spring brings all manner of sakura-flavoured treats, from Kit Kats to soft-serve ice cream and yatsuhashi (a chewy rice flour triangle filled with sweet paste).


For some delicious sakura-flavoured wagashi (Japanese sweets), head to the iconic yet tiny Gion Manju Factory (103 Ooidecho, Sanjo Shirakawabashi-dori Nishi-iru, Higashiyama-ku, Kyoto, Kyoto Prefecture) in the centre of Kyoto, which has been serving up mochi (rice cakes), dango (rice dumplings on a skewer) and other traditional treats for almost 200 years.