Austria is Europe's most dynamic wine destination thanks to its diverse environment, organic practises and grape
The Barossa Valley, Tuscany, Bordeaux, the Wachau Valley? Austria's wine regions might not be household names just yet but Austria is punching far above its weight when it comes to producing top-notch wines at very reasonable prices.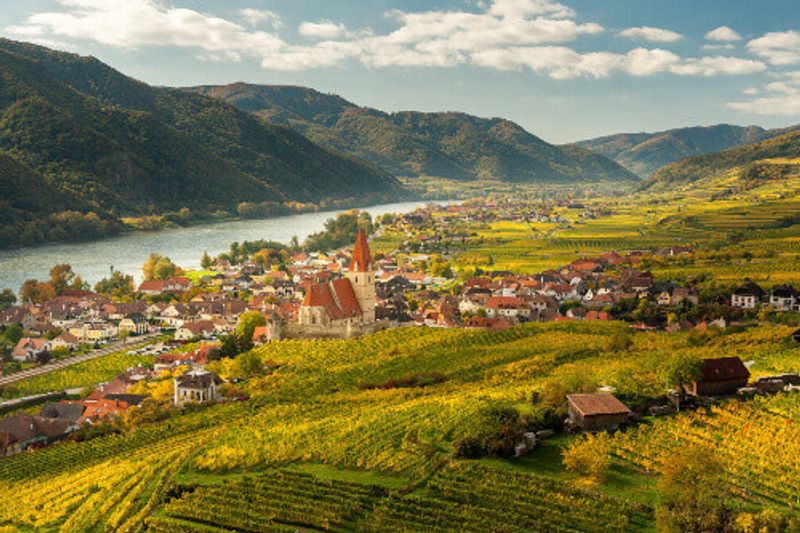 Not only are Austria's wine exports booming but the country has been voted Europe's best wine travel destination in the world at the Travvy Awards, the 'Academy Awards' of the American travel industry. This is in part because the Austrian landscape is unbeatable – vineyards are found amongst Alpine mountains, crystal clear lakes and verdant hills where locals can be found wearing traditional clothing that wouldn't look out of place in a remake of the Sound of Music.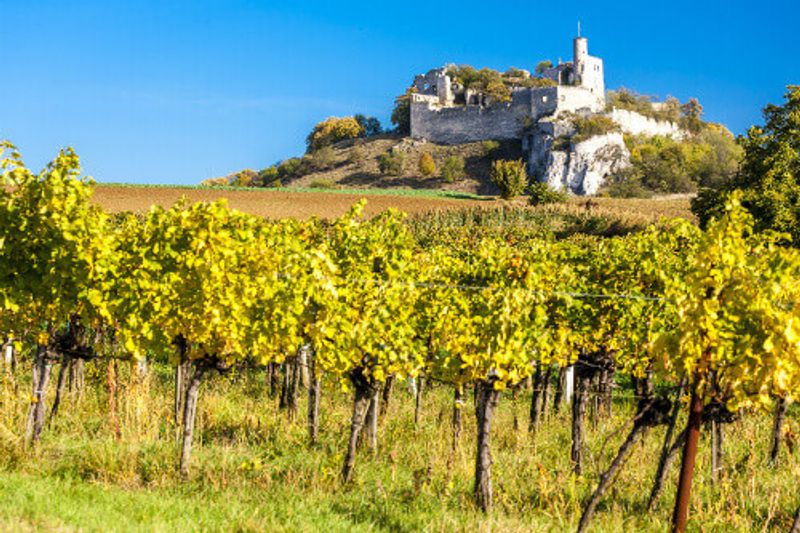 Another draw is that Austrian vineyards are mostly made up of comparatively small, family-run establishments that have a strong focus on organically produced dynamic wines rather than the mass produced, mega-vineyards found in many new world wine regions.
The climate
We know that the climate of a region affects the growth of grapes and Austria is perfectly placed to produce exceptional quality wines. Austria sits at the same latitude as France's famous wine growing region of Burgundy but it is more centrally located in Europe. This means it has a wider range of temperature variations with warmer days and cooler nights than its more westerly neighbours. This produces fresh aromatic wines, with good body and fine characters.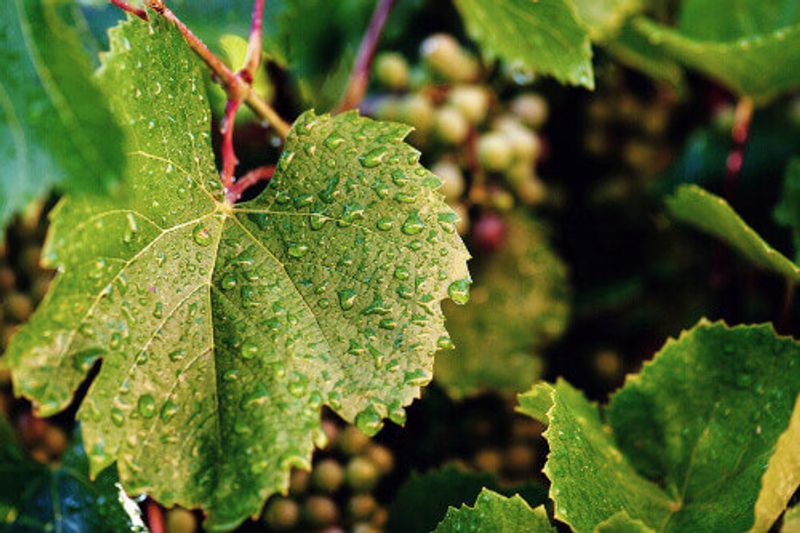 #
The land
Although wine is grown throughout the country most of the more established wine growing regions of Austria are found in the east of the country surrounding the capital Vienna. The soils found in this relatively small area are quite diverse meaning that a wide range of wines can be produced.
Niederösterreich is the country's largest wine growing region with a wide variety of local and international varieties grown. The Kamptal, Kremstal, Wachau, Wagram and Weinviertel are all regions in this area.
Tucked away in the centre of this area around Vienna is the smallest of Austria's wine regions known as Wien. Below Niederösterreich is Bergenland located around Lake Neusiedl, which includes the Blaufränkisch and Zweigelt regions, known for producing sweet and red wines. And then Steiermark (or Styria) in the south, has a further small 16 wine regions and is where more of the international grapes such as Sauvignon Blanc, Pinot Blanc and Chardonnay are often found.
Culture, nature and dynamism
Austrian monks, Roman crusaders and medieval villages have all grown wine in the region and in recent years it has started to attract the international attention it deserves. Traditional knowledge combines with new 'natural' wine practises has made Austria the centre for dynamic wines.
Organic, natural or bio wines are the norm in Austria as genetically modified grapes are shunned and water purity, biodiversity and earth efficiency are always regarded with the highest priority. Because of this, Austria is now regarded as the world leader in organic farming and wine production. An impressive 21% of all agricultural land in Austria is classified as organic.
The majority of vineyards are still harvested by hand in Austria, which has contributed to the quality and dynamism of Austrian wines, and as family farms dominate the wine making industry, there is less focus on mass-produced wines.
The grapes
Austria's most famous indigenous wine grape is the Grüner Veltliner – a dry white wine grape that has long been established as one of the great white wines. Austria also grows well some of the more well-known European grapes such as Riesling, Sauvignon Blanc, Chardonnay, Pinot Noir, Merlot and Cabernet.
It also has a wonderful heritage of growing and maintain in its biodiversity of grape. Many Austrian grapes have Traminer and Heunisch as parent varieties. Traminer is one of the oldest European grapes that would have descended from wild vines that grew thousands of years ago. The Heunish is the godfather of many of the white grape varieties we know today including Riesling and Chardonnay.
Today a number of rare wine grapes such as Gelber Muskateller, Zierfandler, Rotgipfler, Roter Veltliner, Neuburger and Wiener Gemischter Satz are being used to continue that biodiversity and constantly develop new wines varieties. This goes hand-in-hand with the preservation of regional ecological balances by not bringing in too many non-native varieties to the land, ensuring that the right grapes are used for the right conditions.
Austria also pays close attention to the responsible use of energy and natural resources as well as the enhancement of soil fertility and the maintenance of water quality. But ultimately the dynamic wines from Austria can be described as artisanal. Restrictions are placed on yield and practises are labour intensive but by preserving the ancient methods, protecting the environment they are made in and maintaining the varieties that have gone before them they have led to a boom in the appeal of this dynamic wine production method. In an era where people are looking for alternatives to high-volume, low-cost production, Austria has landed on its feet.
Three wines to try:
#
Gruner Veltliner Weinviertel – Golden Reserve, Domaine Pfaffl, 2017
No trip to Austria would be complete without sampling the daddy of Austrian wine varieties the Gruner Veltliner. In fact, the founder of the Pfaffl winery is known as 'Mister Veltliner' and this 100% Gruner Veltliner, Golden Reserve has an aroma of flowers and lemon with a peppery finish. Try it with some delicious grilled fish, white meat or local cheeses.
Diwald Riesling, Fuchsentanz, 2017
Riesling has often been accused of being sweet but the Fuchsentanz is clean, crisp and refreshing. Fuchsentanz translates as "Fox Dance" due to the time when the animals dance as the sun sets. It benefits from growing on south facing hills in a gravely soil. It has a lower sugar content than many other Rieslings and has flavours of grapefruits, oranges and spring blossom. Made with organic grapes, this one can cut through the acidity of rich sauces and stronger flavours pairing beautifully with light meats such as foie gras or game.
Feiler-Artinger Ruster Ausbruch, Burgenland, 2013
Austria's Burgenland has an incredible microclimate around Lake Neusiedl that makes perfect conditions for growing wines used in the region's famous sweet wines. The moist atmosphere creates a type of fungus on the grapes, which when picked at exactly the right time and then slowly fermented, is known as 'noble rot,' and creates a concentrated sweet wine. Feiler-Artinger have managed to create a delicious and balanced rich wine from these grapes that are aged in oak before providing a lively and concentrated sweet wine that partners harmoniously with ripe cheeses or desserts.