The gateway to the Alps is a stunning historical town that's not to be missed whatever the time of year
Located high up in the Alps, Innsbruck is found just south of Germany and just north of Italy and is the capital of the Tyrol region. Any European who enjoys their winter sports knows that Tyrol has among the best skiing in the world and Innsbruck is the starting point for many a winter holiday.
But it certainly isn't just a jump-off point for people heading out to the mountains. It is a stunning small town that sits in a broad valley surrounded on both sides by tall, snow-capped mountains that loom over the town.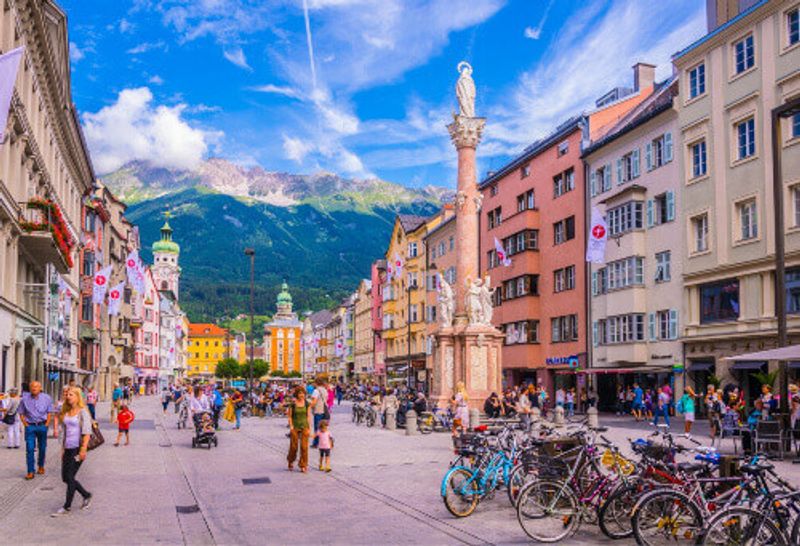 Brightly painted shops flank the broad avenue of Maria-Theresia Street – the main shopping street that also plays home to the famous Swarovski design store. It runs along the old town, to where visitors can see the 15th century townhouse known as Helblinghaus. With both Gothic and Baroque influences, it wouldn't look out of place in Barcelona with its ornate façade. The building opposite it, the Goldenes Dachl or Golden Roof, so named after its shimmering 2,657 fire-gilded copper roof tiles, was built back in 1500 to mark the wedding of Emperor Maximilian I. From here, he and his wife could stand on the balcony to look down on the crowds, tournaments and festivities below.
The old town also houses the beautiful Hofgarden that was also created for the Royal Wedding and the Basilica de Wilten – the most beautiful Rococo church in Austria. While the Sill River flows gently through the town in summer and creeks with ice during the winter months, the colourful buildings that sit at its shore beam brightly all through the year.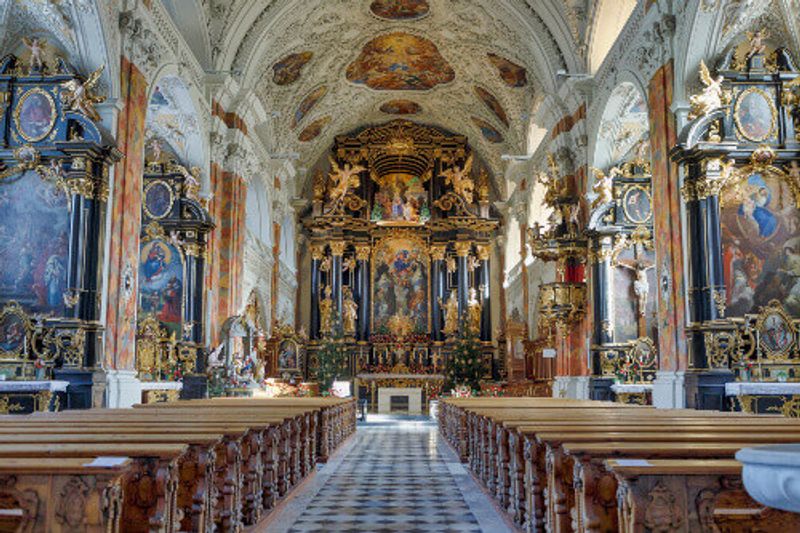 The town hosted the Winter Olympics once in 1964 and again in 1976 and is famous as a ski destination. The gateway to the Alps, visitors can hike up one of the many surrounding mountains such as the Höttinger Alm to see the magnificent views of the city from up high. Alternatively, take the 20 minute Nordenkettenbahnen lift and cable car up the mountains to get spectacular 360-degree views of the town and the whole region.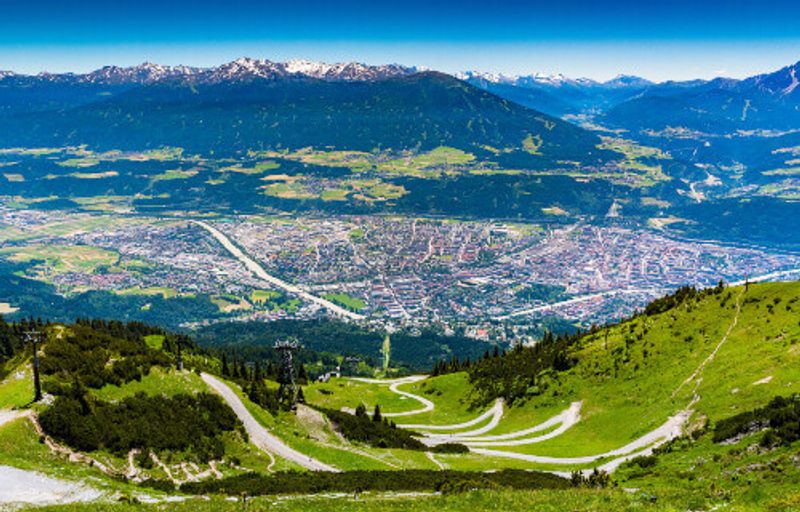 For brave souls wishing to see a bit of Olympic action then Bergisel Ski Jump is one not to miss. Opened in 2002 and designed by star architect Zaha Hadid, the gondola, elevator, panoramic café, and vantage spot on the jumping platform are all open to visitors.
Something a little closer to town, however, is Ambras Castle – a rare example of Renaissance architecture in this part of the world that is surrounded by an English garden. Built in the 16th century on the site of a 10th century castle it was the residence of Archduke Ferdinand II, one of the most prolific art collectors of the day. Many of the artworks he collected are still on display to visitors to this very day.