The undeniable romance of train travel calls to many travellers, and a trip on board the iconic Ghan captures this charm perfectly. Stylish, well-appointed carriages and first-class service make for the perfect blend of adventure and luxury, creating an unforgettable journey that is on many bucket lists. So, before you embark on Australia's greatest rail journey, here's how to get the most out of your journey on board The Ghan.
What is included?
From meals and beverages to entertainment and off-train excursions, a journey onboard the Ghan is all-inclusive so your wallet can remain tucked away – unless any souvenirs catch your eye from the gift stand!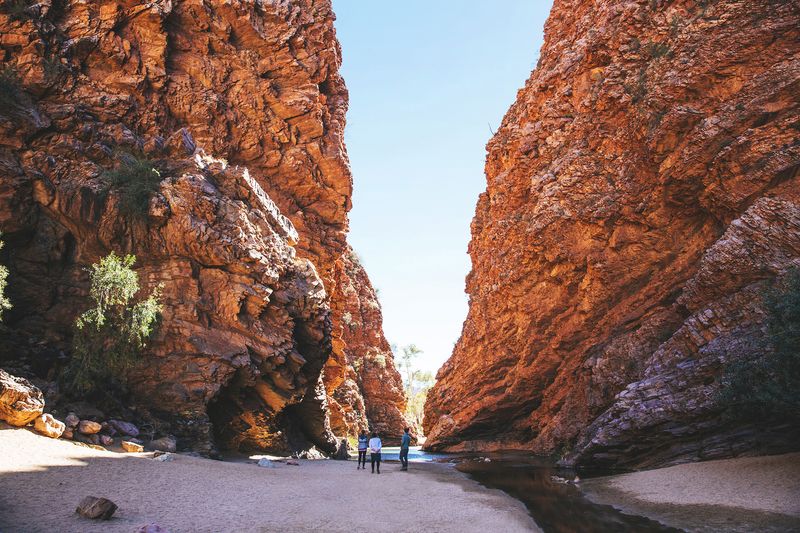 What are the off-train experiences?
Every trip on board The Ghan from Adelaide to Darwin includes three off-train excursions. You'll select these incredible excursions upon boarding. Venture into the historic precinct of Alice Springs, enjoy guided walks of Simpsons Gap, cruise Nitmulik Gorge and more. Adventurous travellers can even select a helicopter flight as an optional tour at additional cost. When opting for the shorter journey from Adelaide to Alice Springs, one off-train experience is included.
For many, the highlight experience takes place in the remote Outback. On the way to Darwin, The Ghan will pull into Marla station in the early hours of the morning and guests step outside to watch the sunrise over the desert with a warming coffee and bacon and egg roll.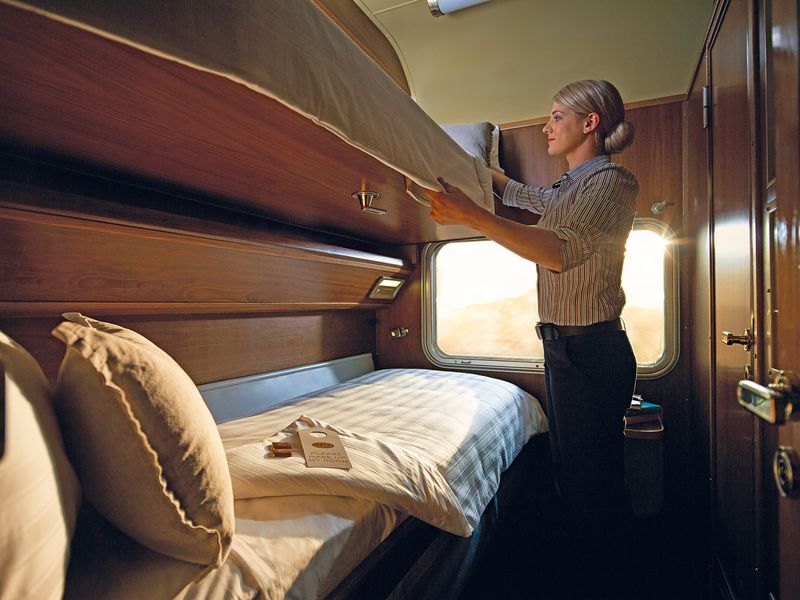 What are the different cabin classes?
A private retreat away from the lounge and dining carriages, Gold Twin is the standard cabin and has the comforts of home with a small ensuite. Watch the Outback pass by from your perch on a comfortable three-seater lounge or tune in to the in-cabin radio for some music and audio commentary of the journey. When you step away for the evening meal, the lounge is converted into twin-size upper and lower berths for sleeping, with ladder access to the top bunk, and then back into a lounge during breakfast the next morning.
Solo passengers can avoid the extra cost of a single supplement by selecting Gold Single, which includes a compact sleeper/lounge cabin and full-sized shared toilet/shower facilities at the end of the carriage.
Should I upgrade to Platinum Service?
For those looking for extra luxury, an upgrade to Platinum service is the key to enhancing your experience. Almost twice the size of the Gold cabins, platinum guests have the option to select a twin or double bed configuration, which is converted from a comfortable bed into a deluxe lounge. Alongside a full-sized ensuite stocked with Australian Appelles Apothecary toiletries, these cabins include a table, two ottomans and broad windows for unrivalled views on both sides of the train.
Platinum service also includes arrival and departure transfers (within 60km of the station), access to the exclusive Platinum Club for an extensive food and wine selection and guests can even opt for a continental breakfast served in-cabin.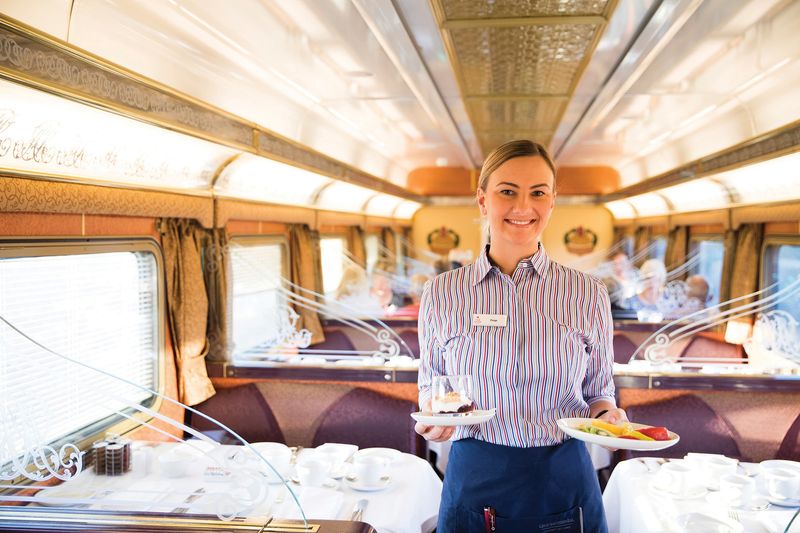 What are the dining options?
The social hub of the train, the Outback Explorer lounge is a carriage outfitted with comfortable lounges and tables, open from breakfast to late evening. Its well-stocked bar serves everything from barista-style coffee to a range of Australian wines, beers, spirits and non-alcoholic beverages.
Upon checking in to their cabin, guests will find a list of all their dining times in the Queen Adelaide Restaurant carriage. Laid out in tables of four, travellers will often be paired with other guests for a more social experience. Inspired by seasonal, locally-sourced produce and prepared by onboard chefs, a delicious meal is guaranteed; from salt-water barramundi to grilled kangaroo fillet and yellow camel curry. And remember, beverages are included so treat yourself to a perfectly paired glass of wine! Vegetarian and dietary restrictions can be accommodated, just be sure to note any requests when booking.
Gold cabin guests enjoy breakfast, a two-course lunch and a three-course dinner. Those dining in the separate Platinum Club carriage can linger over a four-course evening meal, as well as a wider range of beverage options – anyone for a glass of Bollinger?
How much should I pack?
Pack light! Those in Gold cabins will find their space becomes quite restricted if travelling with full luggage sets. Luckily, you're able to check luggage for the duration of the journey so our suggestion would be to separate what you need into a small carry-on that can be easily tucked away.
Is there a dress code?
Many luxury train journeys require formal attire for evening meals, but The Ghan prioritises comfort for travellers. Pack easy knowing that smart casual attire is recommended for all travellers, no matter the cabin grade.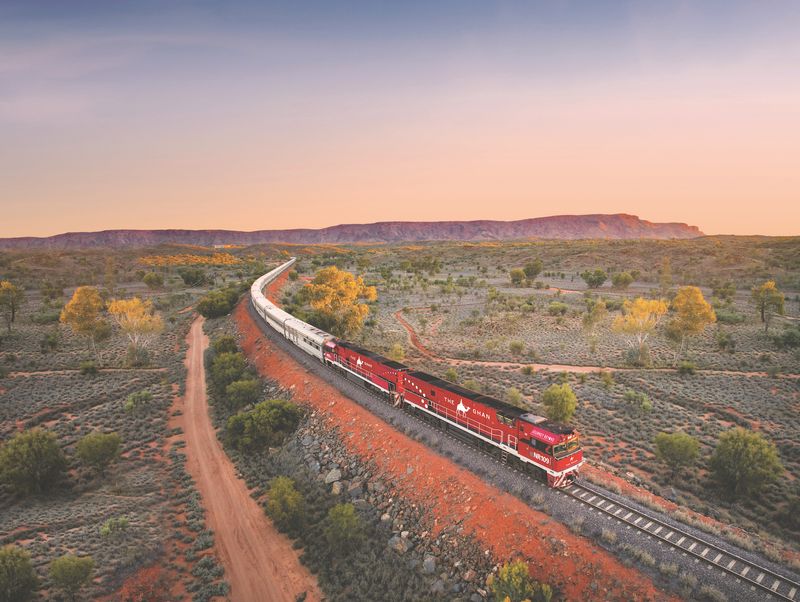 Do I need to tip?
The all-inclusive nature of The Ghan also includes tips for the attentive onboard hospitality attendants, although it's entirely at your discretion to leave gratuities if you wish.
Can I have a forward-facing cabin?
Approximately half the cabins are forward-facing and you're more than welcome to request one at the time of booking. Please note this is not a guarantee as it does depend on the number of requests and cabin availability for each journey.
How does the onboard experience vary from the Indian Pacific or Great Southern?
The interior of all three trains are identical so the features of Gold and Platinum, styling of the carriages and dining inclusions apply for all trips on these three famed routes.