Shore excursions are the highlights of any expedition cruise - here's what you need to know
For most, travelling to Antarctica is a once-in-a-lifetime journey. The frozen continent is home to extraordinary wildlife, a baffling landscape and 90% of the world's ice. It's also one of the most remote places in the world, making it an alluring destination for intrepid travellers.
The most exciting part of expedition cruising to Antarctica is the prospect of shore landings. We spoke with Damian Perry, the managing director of the Asia-Pacific Region for Hurtigruten, to get an insight into Antarctic shore excursions and their operation.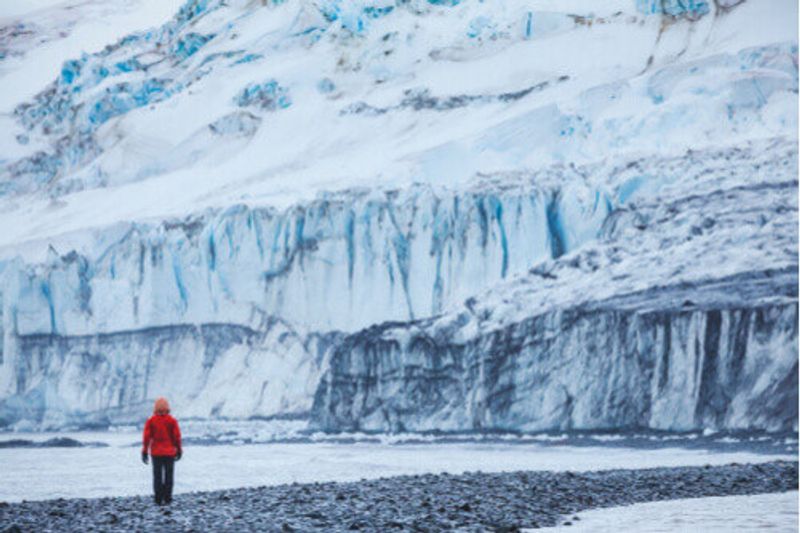 What are shore excursions?
Shore excursions in Antarctica are your opportunity to get up close with the icy landscape and animals that call it home. While you're likely to spot wildlife as you cruise from Ushuaia, through the mighty Drake Passage and into the Antarctic Peninsula, exploring Antarctica on foot is the best way to observe penguins and other creatures up close in their natural environment.
Prior to embarking on a land excursion, Perry says passengers are briefed on the landing process and what to expect, as well as where to walk and not walk. During these landings, expedition crew are always available to offer assistance and expertise. They guide groups around the sites in search of animals, ice formations or other points of interest, share information and ensure everyone is okay.
"The team are there to impart their knowledge - try to stop them," says Perry.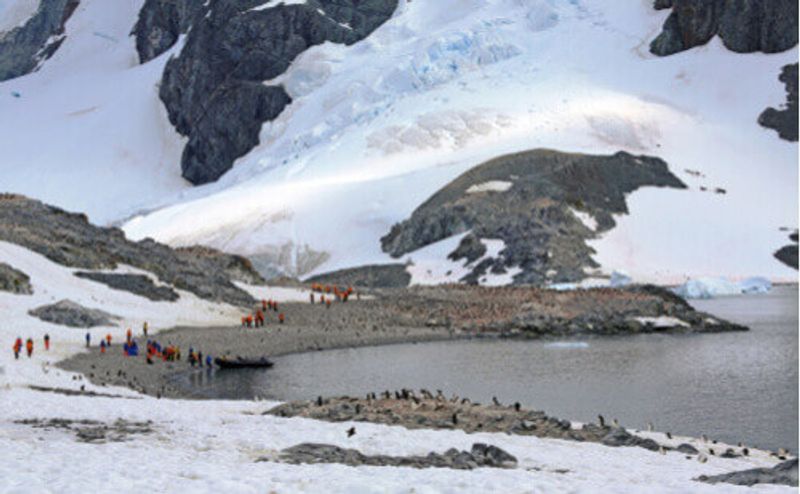 How do we get from ship to shore?
On Hurtigruten Antarctic expeditions, the transition from ship to shore runs like clockwork. Upon check-in, travellers are allocated to groups of around 20, depending on the number of people on board, before collecting a badge and equipment for use throughout the trip. The night before each shore excursion, a briefing is held to determine landing times and groups are given an estimated departure for the following day so they can prepare. This information is displayed around the ship and announcements are made every morning alerting passengers to weather conditions or any delays.
Purpose-built inflatable tenders (boats) are used to transport passengers and crew to land.
"The tender boats are constantly rotating," Perry says. "We operate around 18 boats, so while five groups may be landing in Antarctica, [others] may be cruising, or doing activities such as Kayaking."
When it's their time, groups are called to the tender pit – where passengers board the tenders – over the speaker and the following group is instructed to get ready.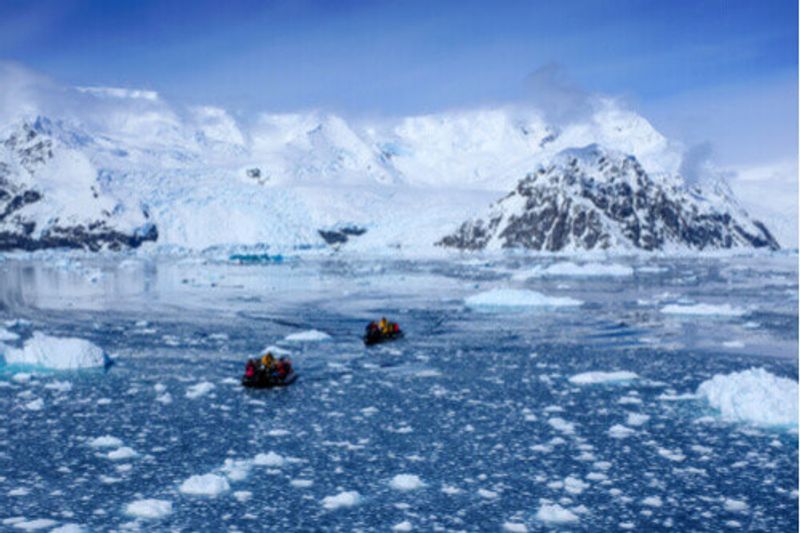 What will we see during our shore excursions?
Several factors influence what you will see on Antarctic shore excursions. While the Antarctic expedition season runs between November and March, certain animals are more active in some months, and weather fluctuates throughout.
November is the beginning of the season, and its colder temperatures create pristine conditions. Migratory animals start arriving back to Antarctic waters, the land remains untrampled by visitors and ice formations are still intact. Towards the end of the month, penguins start to mate and lay eggs. As the summer progresses, daylight stretches to almost 20 hours. Late January and early February see many penguin chicks hatch and seal pups born on the pack ice, and whales sightings are more common, too.
Another aspect that differs is the landing sites. Some are home to scientific facilities and old whaling stations, while others are barren and icy. Then, of course, there's luck. All of these elements impact what you will see on a shore excursion, but rest assured that the crew will facilitate the best possible experience.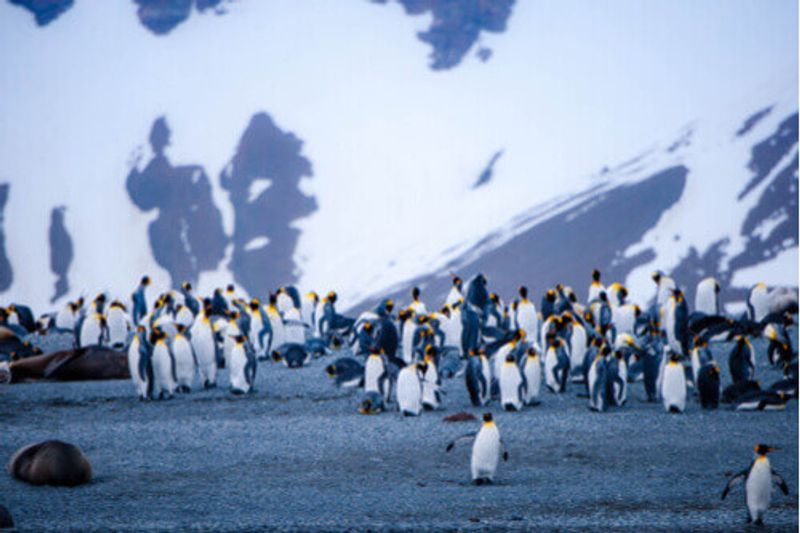 How many shore excursions will we get to do on our expedition?
Antarctica is a wild place; conditions can turn from serene to windy in a flash. On average, people will experience one landing per day while in the Antarctic Peninsula, but if the weather permits, two may be possible. As safety is the primary concern, weather conditions dictate the daily schedule and programs will be shifted to suit them.
In addition, Hurtigruten abides by rules set by IAATO – the body dedicated to regulating Antarctic tourism and environmental impact – and only allows 100 people on shore per site at one time. Perry says passengers must read and sign a copy of the IAATO regulations, agreeing to comply with them to protect the environment they are visiting.
Ultimately, Perry says, expedition crew are passionate explorers themselves and are always looking to get people off the boat and on shore to truly experience the destination.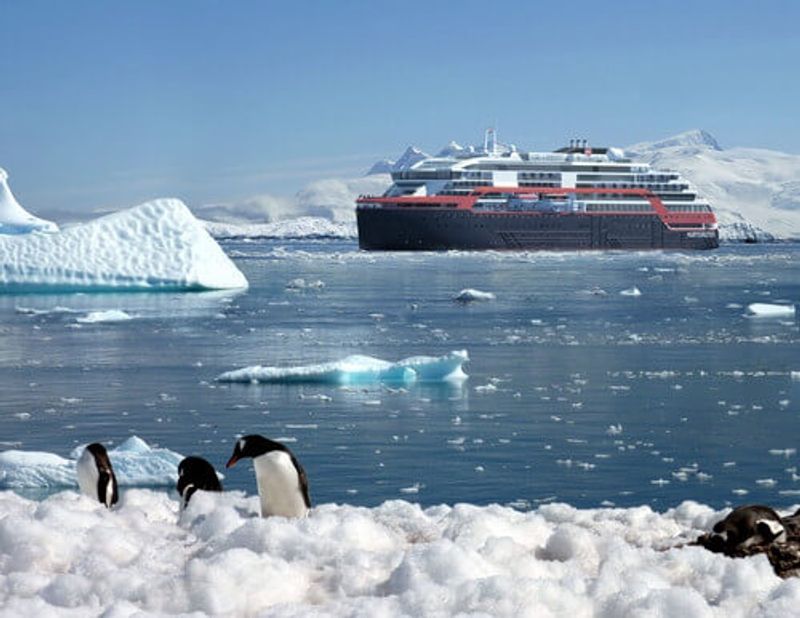 Will the ship size impact the number of shore landings and the overall Antarctic experience?
The MS Fridtjof Nansen is categorised as a mid-sized vessel, with a comparable length to many expedition ships and a capacity up to 500 passengers. It's currently the most modern of all ships entering Antarctic waters and as such, every element of its construction has been carefully designed to maximise efficiency, and minimise environmental impact. The ship itself is a hybrid, reducing harmful emissions by 20%.
Unlike smaller expedition ships with limited facilities, the MS Fridtjof Nansen is spacious and equipped with ample areas to relax. Its facilities are spread throughout the ship, eliminating crowding and contributing to an overall more comfortable experience.
One of the ships main innovations is its specialised tender pit. This part of the vessel, Perry says, can easily operate two tender boat top to tail.
"The tender door is perfectly aligned to the boat, so the transfer is easy. It makes the landing as quick and more comfortable than any smaller ship," Perry says.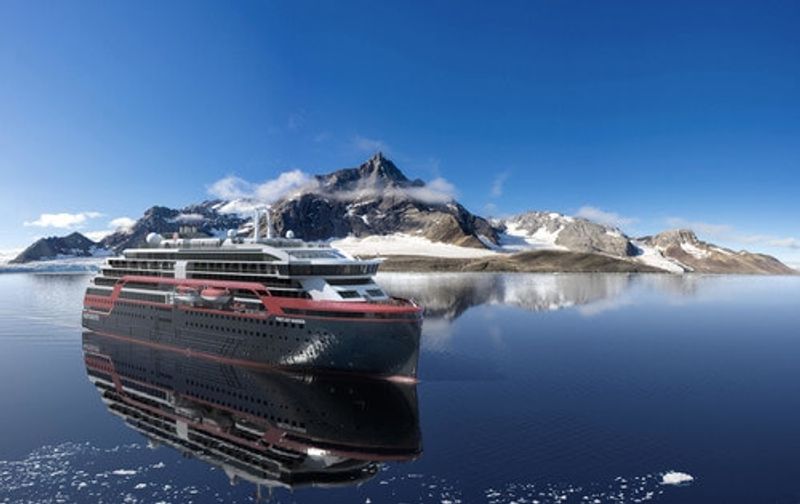 What is there to do when I'm not on a shore landing?
Although shore landings are one of the most exciting elements of an expedition cruise, there are many other activities to keep passengers entertained. When not on a land excursion, people have the option to board a tender and cruise around sights of interest with a guide. On board, there's a gym, wellness centre, infinity pool and two hot tubs, as well as numerous lectures and activities hosted in the science centre by expert crew members. Activity times are set in advance, so passengers can plan their day.
Those looking for a bit of extra adventure can purchase optional activities, such as Antarctic kayaking or hiking. This can be done while on board, but it's best to pre-book to avoid disappointment as numbers are limited.
As shore landings and tender boat cruising are the priorities, meals are worked around excursion times and the main restaurant, Aune, is open all day to facilitate this flexibility.
What do I need to wear on shore landings?
During your expedition cruise, you will be provided with water and wind-proof jacket, rubber boots and life jacket, all of which are stored in a drying cupboard so they're good to go when it's time to head ashore.
Perry also recommends wearing plenty of warm layers, a hat and gloves, and says many passengers bring a day bag with a camera, binoculars and water.
"Lightweight, waterproof pants are good also. If you forget them, you can buy them in the gift shop," Perry says.