Straddling two continents, Turkey is the perfect example of east meets west. But, when is the best time to go?
Turkey's fusion of vibrant, age-old cultures, incredible architecture and natural wonders have been wowing travellers for ages. The grand city of Istanbul is like no other – with imposing mosques, palaces and hippodromes, colourful bazaars, cave churches, and mouth-watering culinary delights, it is the perfect fusion of east-meets-west. Inland, Cappadocia is one of the most unique places on the planet; its ancient rock formations and early Christian cave chapels are truly otherworldly. Head to the coast and you can sail the Aegean Sea on board a traditional wooden gulet boat, or explore the famous ancient ruins of Ephesus and Troy.


Turkey experiences four distinct seasons, each with its own climatic extremes. Summer, from June to September, is very hot – perfect for soaking up the Turquoise Coastal sun. Pack a hat and sunscreen for exploring the heritage sights, or escape the heat by exploring the Grand Bazaar. Central Cappadocia tends to be more comfortable at this time of the year and is blanketed in beautiful wildflowers. Take in the spectacle with a sunrise hot-air balloon journey, and watch as the golden morning sun hits Güllüdere Vadısı (Rose Valley).
Summer temperatures in Istanbul average around 28 degrees celsius, while on the southern coast, temperatures hover around 35 degrees in Antalya, 32 degrees in Fethiye, and 31 degrees in Canakkale and the nearby Gallipoli Peninsula. In Cappadocia, expect pleasant summer temperatures of 28 degrees.


Autumn cools Turkey down and becomes much more comfortable for travellers. The season's mild to warm temperatures are perfect for exploring ancient sites, and seas are still above 20 degrees celsius. If not for the conditions, autumn travel is worth considering for the many events that take place. In October, Cappadocia's International Wine Festival kicks off, while Republic Day celebrations take place nation-wide on October 29.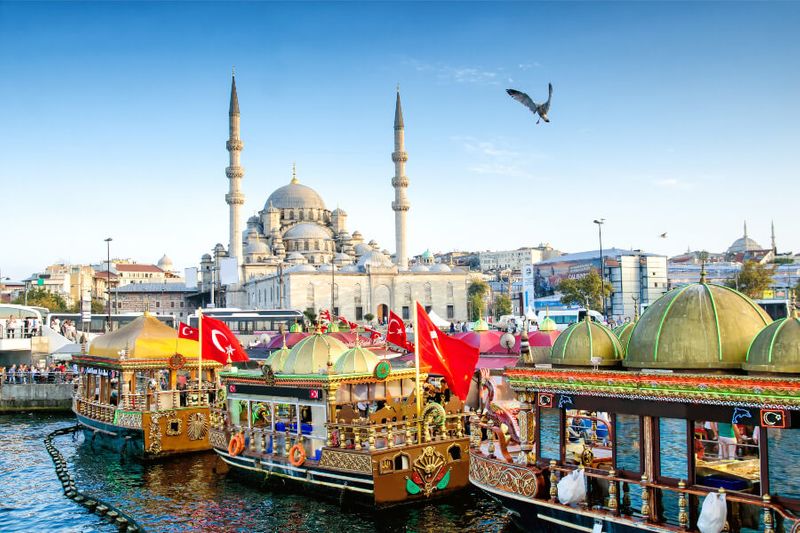 Istanbul is a lovely 20 degrees celsius in the middle of Autumn, and Cappadocia 18 degrees. On the south coast, Antalya is still quite warm at 27 degrees and Fethiye 26 degrees – perfect for that gulet cruise. Further north, Kusadasi stays around 24 degrees and Canakkale 21 degrees.


While much of the country remains mild, Turkey does experience winter and some regions even receive snow. If you're prepared to forego swimming, winter is a fantastic time to travel to Turkey; as it's the quietest period, you're likely to have many of the sights to yourself. Plus, Cappadocia looks straight out of a snowglobe when cloaked in snow.


Istanbul is usually around 9 degrees celsius in the middle of winter, while Antalya and Fethiye on the south coast will remain a mild 15 degrees, Kusadasi 13 degrees and Canakkale 10 degrees. Central Cappadocia cools off the most and can drop below zero, but temperatures tend to stay around 3 degrees.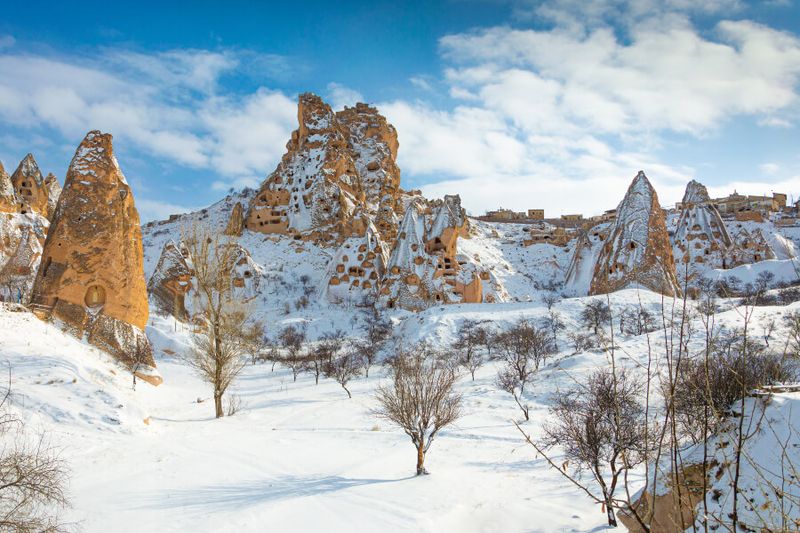 Spring, from March to June, is one of the most popular times to visit – the days are longer and the temperatures warmer. The striking natural wonder of Pamukkale is also brilliant at this time of year, against the bright blue sky. For Australians and New Zealanders, a pilgrimage to Gallipoli to commemorate the ANZAC Day landings of World War I happens in April.


Spring temperatures in Istanbul and Cappadocia average around 16 degrees celsius, and further south, Antalya and Fethiye are both warm at 21 degrees. The sites around Kusadasi can be discovered in 20-degree temperatures, while Canakkale and the Gallipoli Peninsula will be around 17 degrees.


There are so many treasures packed into Turkey that it will be a true feast for all the senses.


When will you go?
Where else do you want to visit?