An archaeologist's dream with blue waters, white beaches, and mountains to boot
Originally part of the ancient Lycian Kingdom, a coastal region along southern Turkey, Fethiye is a budding archaeologist's dream. Even for casual history buffs, it's a must-visit place for travellers who want to get up close and personal with history without straying too far from the famed waters of Turkey's Turquoise Coast.


The city's prime location along the Mediterranean makes it a popular summer destination for both local and regional visitors. The impossibly blue waters against creamy white beaches and towering inland mountains make for endless picture-perfect holiday snaps.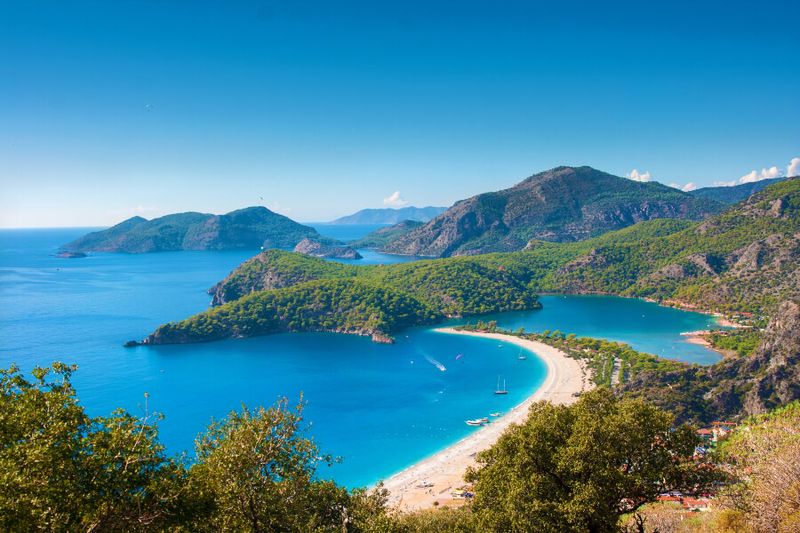 Fethiye Old Town, better known as Paspatur, is a charming section of the city filled with atmospheric little streets, shops, lovely restaurants, cafes, and bars. There's plenty to buy, from local knick-knacks to souvenirs and traditional handicrafts. Don't forget where you are – when in Rome, do as the Romans do, and head to the Turkish baths for the steam or a massage.
Ancient origins
Fethiye was once called Telmessos in Ancient Greek, named after the mythological son of the god Apollo. The city has seen thousands of years of history, including invasions by Persian armies as well as the Byzantine and Ottoman empires. There are also remains of a small Roman theatre.


For a quick primer on what Lycian civilisation was all about, pop by the compact Fethiye Museum to learn about the region and its long, rich history. One of the museum's highlights is the Trilingual Stele – an ancient inscription featuring Lycian, Greek, and Aramaic – that allowed researchers to closely study the Lycian language.


The Lycian tombs are a must-see, particularly the mountainside Tomb of Amyntas. For avid tomb explorers, just outside Fethiye is Kaunos, shortlisted as a tentative UNESCO World Heritage Site, which houses 3,000-year-old rock tombs and other fascinating ancient structures. Ancient town ruins dot the area, including the old Lycian city of Pinara. There's also the ancient site of Karmylassos, now called Kayakoy, a preserved museum town which some call a 'ghost village.' The abandoned stone settlement is a bittersweet remnant of the Greek community that lived there until a divisive 1920s resettlement act.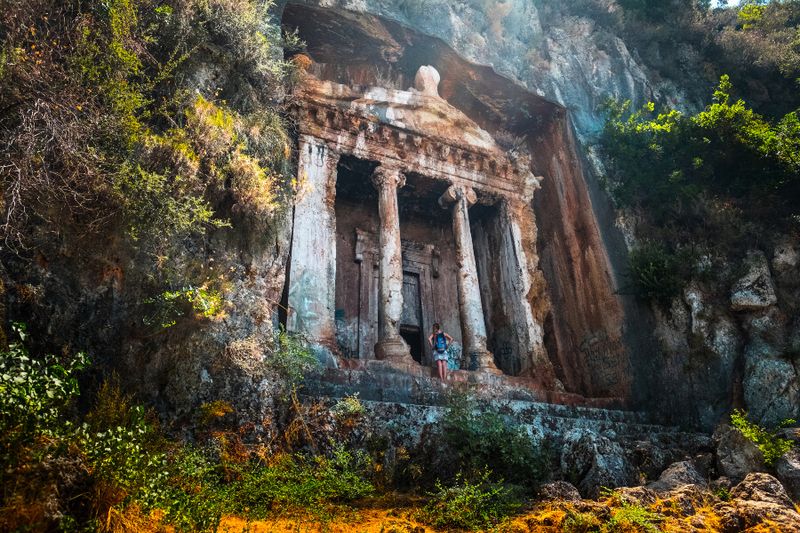 Letoon's UNESCO-protected Hellenistic temple complex is a must for fans of Greek mythology – its three temples belong to Leto, Apollo, and Artemis. Indicated by its name, Letoon was originally, primarily devoted to Leto, who had become a prominent figure of worship in the area.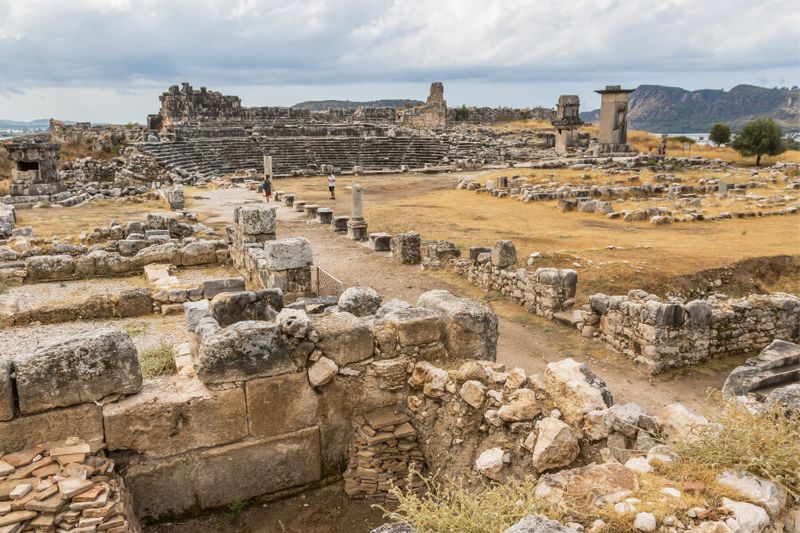 Things to do
Beach bums rejoice – Fethiye is a stone's throw (or less than an hour's taxi/dolmus ride) from some of the most beautiful beaches in the world, such as Belcekiz (which also has a stunning lagoon) and Oludeniz Beach. The latter just might be the country's most famous beach and can get pretty busy during peak months during summer holidays.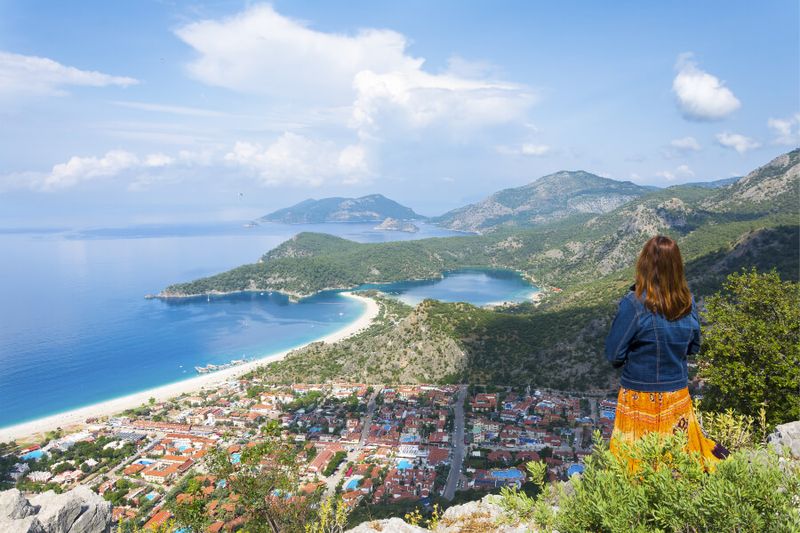 One popular, crowd-free way to enjoy the area is to hop on board a gulet sailboat – a traditional wooden craft with two (or sometimes three) masts. Most gulets today are no longer propelled by wind-filled sails, but engines; nonetheless, a gulet voyage is arguably the most tranquil, memorable way to fully immerse oneself in one of Turkey's most scenic regions.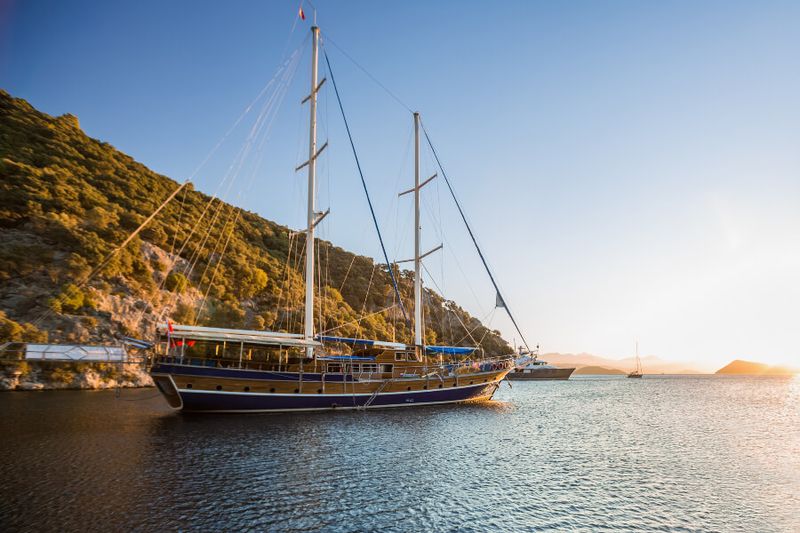 And finally, don't forget Fethiye's bustling fish market, where you can pick up fresh daily catches – some restaurants will even cook your seafood for you - yum!