Kristy and her husband Paul, share their experiences on our 14 Day Fjords, Lapland, and Northern Lights tour
What prompted you to book your tour?
We had done several warm weather trips and decided we wanted to go on a cold/wintery trip. I started looking at destinations and Finland kept popping up. When I saw the Inspiring Vacations tour that went to both Norway and Finland, I knew it was the trip for us.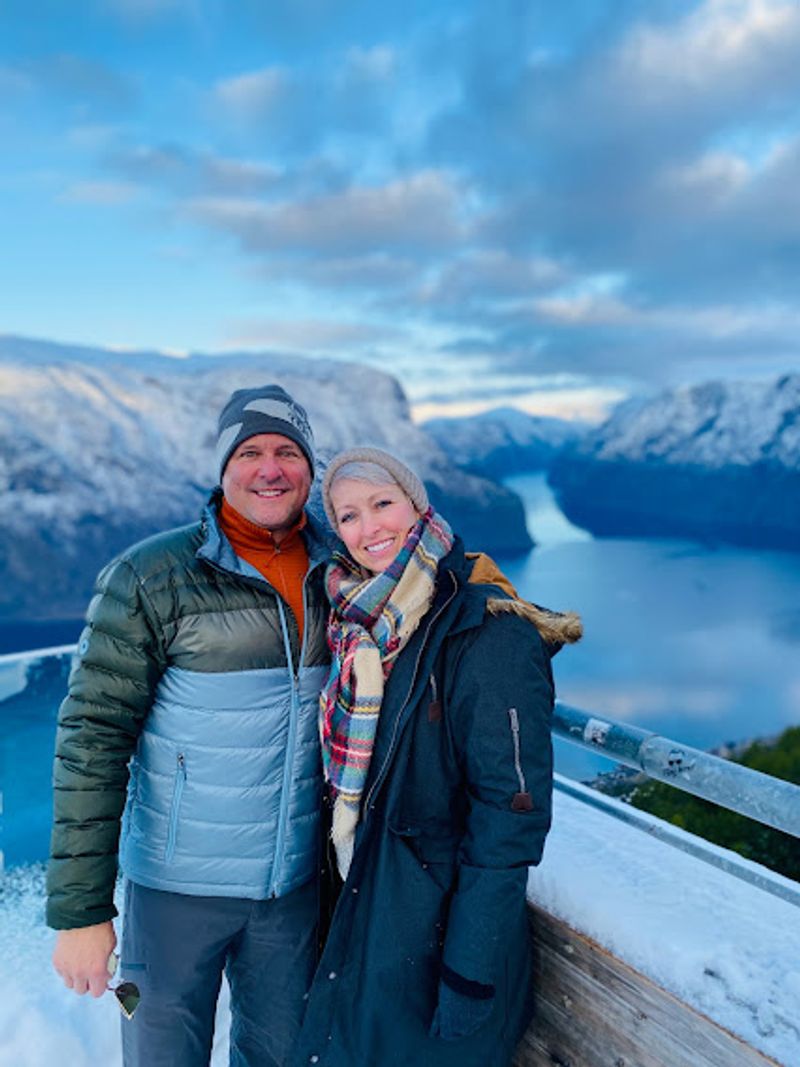 Did your expectations meet reality?
No, reality was so much better than what I was expecting! I joined the Inspiring Nordics Facebook group to get a better idea of the tours, and to get a good idea of what we should pack (and not pack!). This was very helpful, but still didn't prepare me for the amazing scenery and experiences (photos don't do either country justice!) We felt like we were in a winter wonderland.
Any surprises?
Several actually. The first surprise is that I was hot more than I was cold! I get cold very easily so I was worried about being cold during our trip, especially when we were out hunting the Northern Lights. We had great layers and heavy coats and I was comfortable almost the entire time. The protective jumpsuits, gloves and boots we were given in Rovaniemi were wonderful. We went snowshoeing several times and not only was I not cold, I got hot. I had to unzip my coat, take off my beanie, and take off my scarf.
The second surprise is how much we loved the sauna/ice swim experiences in both Norway and Finland. Our guide told us about the tradition, so when we were in Bergen, we booked our first sauna/ice swim. Neither of us had ever done this and we were nervous, but we both loved it so much and felt so invigorated afterwards. We fell so in love with the tradition, that we booked two more sauna/ice swim experiences, one in Helsinki and one in Rovaniemi.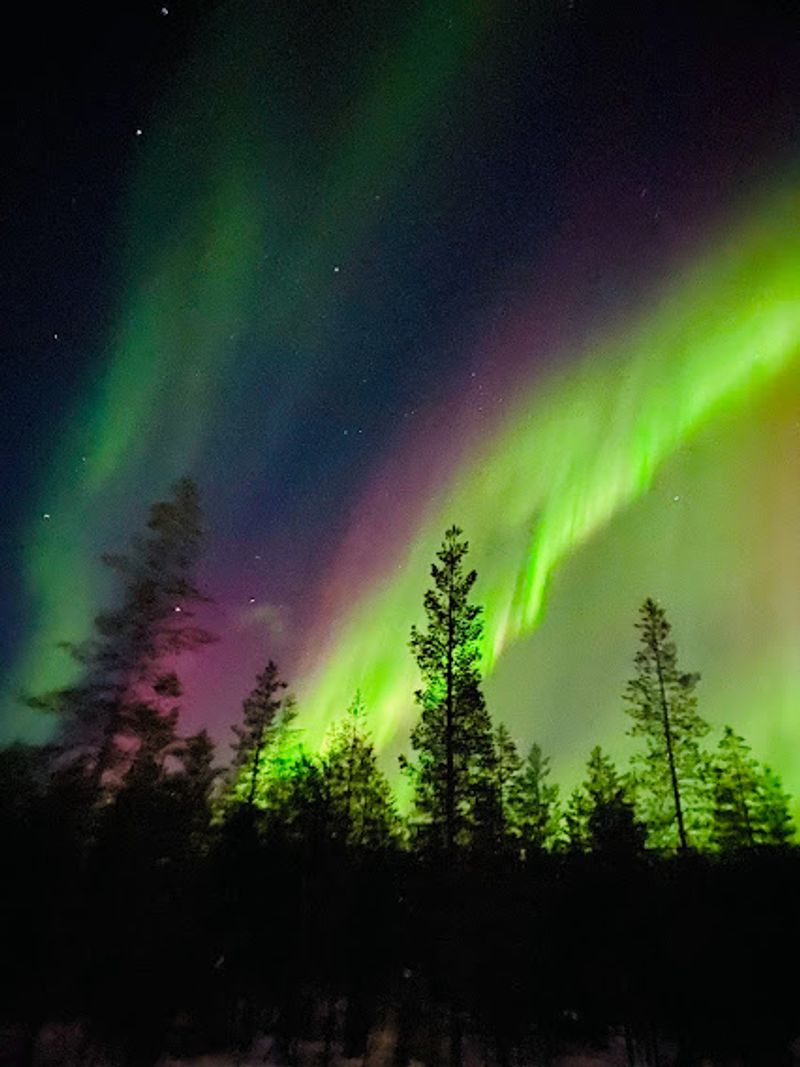 What were the highlights of this tour for you?
The Northern Lights were probably the top highlight of this trip, although it's hard to rank them because there were so many amazing experiences. We were so lucky, and the Northern Lights put on a show for us the night of our tour. At one point, we had to turn 360 degrees to see them all because the entire sky was filled with lights. We saw greens and reds and purples, and they literally danced across the sky. We kept saying how they looked fake and we couldn't believe what we were seeing. My hands got cold because I kept having to take my gloves off to take pictures of the magic happening before our eyes. It was worth it; I will never forget the sense of awe I felt watching the Northern Lights from a remote spot in the Arctic Circle.
Another highlight was the husky safari. Paul and I love dogs so much and we wanted to make sure the dogs were happy and healthy and not exploited for tourism. Let me tell you, those dogs couldn't stop wagging their tails, jumping with excitement to pull the sled, and snuggle with you afterwards. We gave them all the pats and were rewarded with nuzzles and kisses. We were in dog heaven!
Yet another highlight was snowshoeing near Flam. It was our first time snowshoeing so we didn't know what to expect, but it was so easy and fun - I'm clumsy and even I didn't fall. The most amazing part of the hike was the views of the fjords. My pictures look like Bob Ross paintings and they don't come close to showing the magnificence of the locations when you see them in person. I'm pretty sure our mouths were agape for half the hike because we were awestruck by the beauty.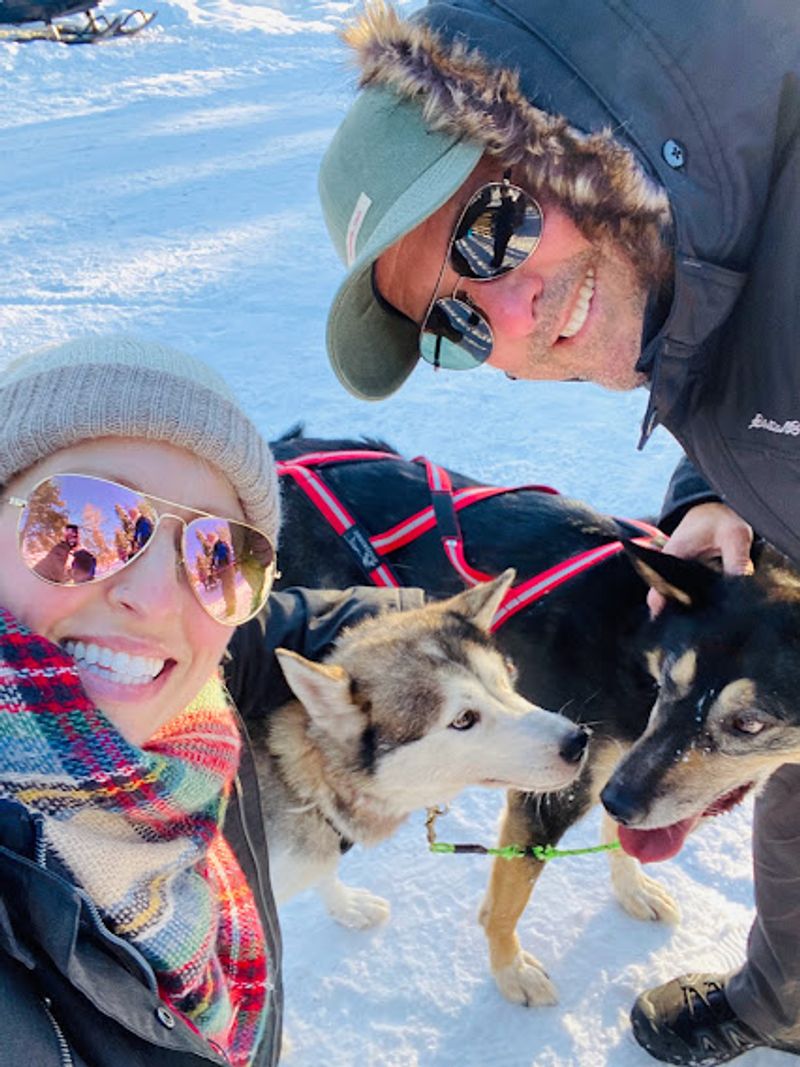 We enjoyed that this tour was partially guided and partially solo. We were able to partake in guided tours to learn the history of the city, but then also walk around on our own to explore without having to stay with the group the entire time. It was a perfect combination.
We had one guide in Norway and a different one in Finland. Stefano was our guide in Norway and he was incredible. It was helpful to have a guide giving us local information about attractions and restaurants and making sure we made it to the trains and planes on time. I know he speaks at least four languages fluently as I heard him give our group information in English, Spanish, French, and German. He regularly sent us information about the cities we were in and reminded us of departure times and places.
The hotels were great. They were all in convenient locations and each had wonderful breakfast buffets to die for. I'm a vegetarian and there were so many options to choose from. The rooms were all clean and the beds were comfortable. We liked how each person got their own comforter - no stealing covers when you have your own!
Did you do any optional tours?
Yes, we actually signed up for five optional tours because we wanted to see as much of each country as possible. We signed up for the following optional tours: upgrade to RIB Boat Safari Fjord Cruise (Flam), Snowshoes Hike (Flam), Reindeer Safari (Rovaniemi), Northern Lights Ice Floating (Rovaniemi), and Snowshoe Walk (Rovaniemi).
Upgrade to RIB Boat Safari Fjord Cruise (Flam): This tour was amazing. They had us in so many layers of protective clothing we could barely walk, which was hilarious. The gear kept us warm even on the speed boat though. We saw beautiful fjords and waterfalls, learned some history, and stopped at a village on the way back to get some fresh goat cheese. We were on the lookout for orcas but didn't see any.
Snowshoes Hike (Flam): This tour is where we saw some of the most beautiful views of the entire trip. Looking out at the fjords from above was incredible. We had an amazing, clear day and the pictures look like postcards! The snowshoeing was fun, neither of us had ever done it before so we didn't know what to expect. It was very easy though and the guides were great. There were several places to rest but the hike was at a very easy pace, so the rest stops were used more for taking photographs than resting. If I could only pick one optional tour to do, this 100% would be my choice.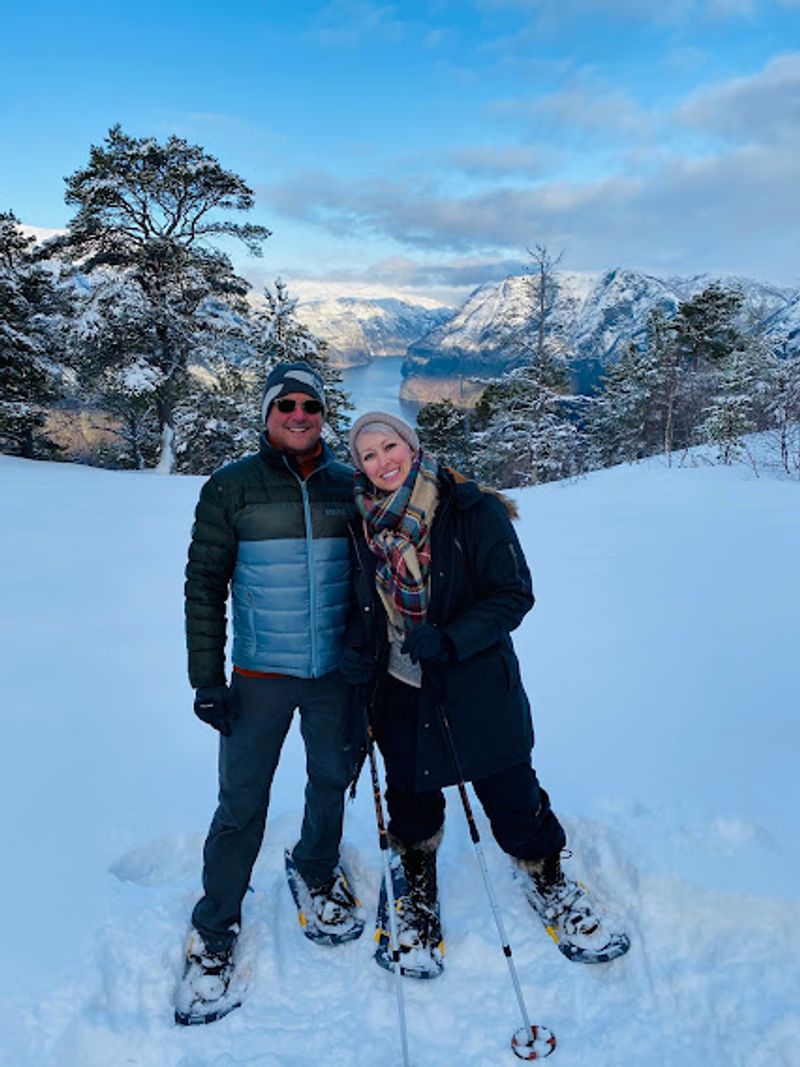 Reindeer Safari (Rovaniemi): This is the only tour I wouldn't recommend. It was my fault for not reading the description properly, but I thought we'd just be feeding the reindeer, which we did at the end and that part was wonderful. However, before we fed the reindeer, there was a sleigh ride, too. If there was a tour that just included feeding the reindeer, I would do that for sure.
Northern Lights Ice Floating (Rovaniemi): This tour was incredible. When I told my husband about this tour he was less than excited, but it ended up being one of his favourite tours. We drove out to a lake and suited up in a cabin. The wetsuits are huge, but that helps you float. We put the suits on over our winter layers and then took the ladder down into the water. The lake has a generator moving the water so it doesn't freeze solid. My husband and I hooked arms so we didn't float apart and just watched the clouds go by. There were several breaks in the clouds so we could stargaze and it was amazing. Our hands were a little cold, but that was our fault because we forgot to put our gloves on under the wetsuit. Once we got out of the wetsuits, we had warm juice and cookies. And then the Northern Lights came out again – it was fantastic.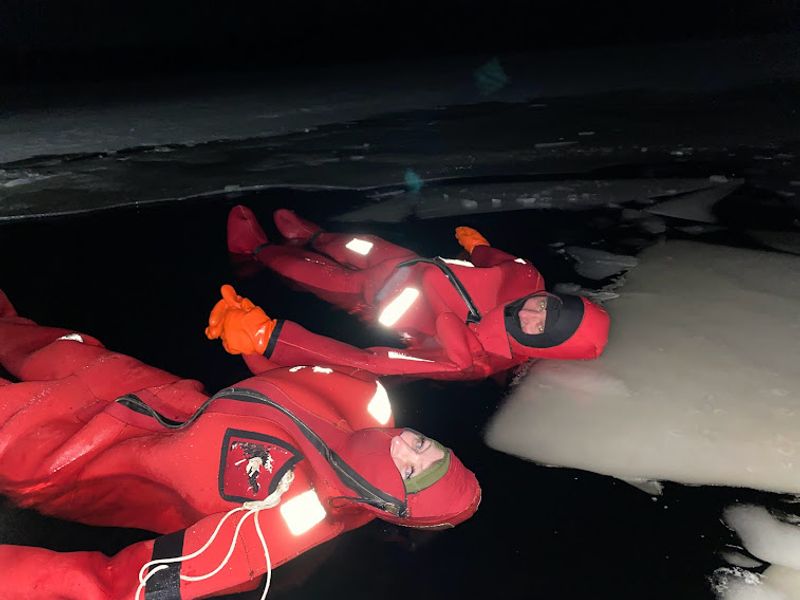 Snowshoe Walk (Rovaniemi): My husband was feeling a little under the weather, so I did this tour by myself. It was amazing! This snowshoeing was different from the snowshoeing we did in Norway because there was over a foot of fresh fallen snow. It was a little more difficult, and a longer hike, but the experience and the views were worth it. There is a lookout tower at the halfway point that you can climb and see for miles. The sun came out for the first time here and it was spectacular. I highly recommend this tour.
What do you say to those pondering whether or not to book this tour?
Do it! Without hesitation, I would recommend this tour and destinations. We like to travel to new places since there are so many places to see and we rarely visit the same place twice, but I would go back to Norway and Finland again in a heartbeat! The landscape is breathtaking, the people were so kind and helpful, and the food was amazing. If you're looking for a sign to go to Norway and/or Finland, this is it! We look forward to taking many Inspiring Vacations trips in the future.
Love the sound of Kristy and Paul's experience? Click for more information on our tours to Norway and Finland.