Enchanting visitors from across the globe, this iconic city is Japan's beating heart
For travellers looking to delve into the history and traditions of Japan, Kyoto is the ultimate destination. Located in the Kansai region of Honshū, the ancient capital is bursting with lavish temples and shrines, tranquil gardens and bustling Geisha districts. Unlike its counterparts around the country, Kyoto suffered only minor damage during the air raids of World War II. Many of its most beautiful temples were spared and thanks to extensive restoration, are open to the public. As Kyoto's most important sights are located outside the city centre, an extensive public transport network of buses, trains and subway lines weaves across the city and its surrounds.
A city of many names – Heian-kyō, Miyako and Saikyō – Kyoto was the capital of Japan throughout the most important parts of its history. For over 1000 years, the city functioned as an administrative and imperial hub, hosting the Japanese royal family until the Meiji restoration of 1868 which moved the capital to Edo (modern-day Tokyo).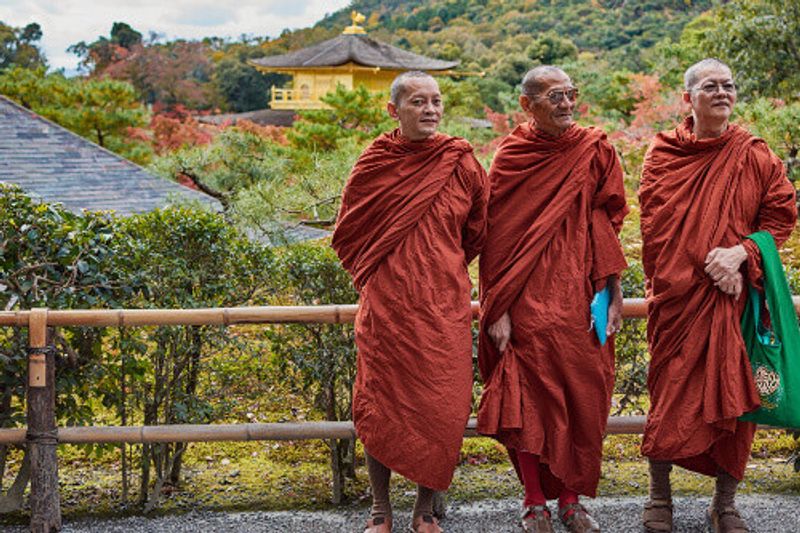 EXPLORE OUR INSPIRING JAPAN SMALL GROUP TOURS HERE
Its status as Japan's most important city led to the construction of buildings and temples in traditional architectural styles, most notably, wooden sanmon gates and noyane (hidden roofs). Today, more than 2,000 Buddhist and Shinto shrines are dotted across Kyoto, all with varying levels of grandiosity. Kinkaku-ji (Golden Pavilion) – once a residence of shogun Yoshimitsu and now a Buddhist zen temple – is covered in glistening gold leaf, while Kyoto's most recognisable site is Fushimi Inari-taisha, a shinto shrine with over 10,000 red gates (and counting). Each gate is a donation to the Shinto god, Inari, and the black inscriptions on the back of them detail the year and name of the business or individual sponsor.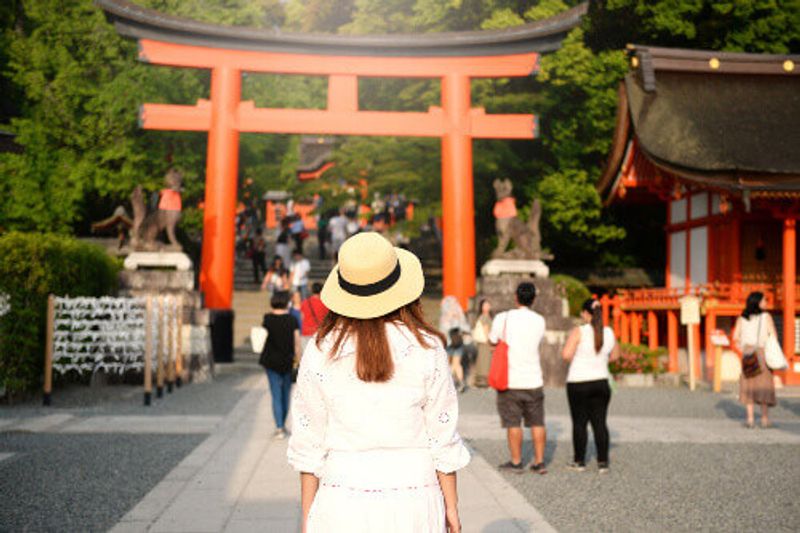 Kyoto's stunning landscape transforms most dramatically in spring and autumn. Wander through Arashiyama (a district in the west and well worth a visit) to see paths showered in sakura (cherry blossom) petals, or crimson leaves. The central Gion district is particularly striking at these times of year, thanks to the deciduous trees dotted throughout. Walk the wooden streets and you'll be forgiven for thinking you've travelled back in time - if you're lucky, you may glimpse geisha and maiko (apprentice geisha) shuffling from building to building dressed in their traditional kimono and okobo (tall, wooden sandals).
Kyoto is also known for its delicious cuisine. Many dishes are centred around tofu which are then paired with flavours like sesami or miso. The best way to sample the flavours of Kyoto is with a kaiseki dinner, a lavish spread of many small dishes like soups and sashimi. Alternatively, head to the Nishiki Ichiba (Nishiki market) to sample Japanese street food at its best. Be sure to sample yatsuhashi, a chewy rice flour triangle filled with sweet paste. Chawan-zaka Street is lined with shops offering free samples of these delicious morsels in every imaginable flavour, from traditional red bean, to cinnamon and chocolate.