Come for the wine, stay for the views
The fortified commune of Château-Chalon is tucked away along a dramatic cliff in the Jura department, in eastern France, and is considered to be one of the most beautiful villages in the country. It is sometimes called the 'lighthouse' of the Jura's numerous vineyards and was built around an ancient castle that once housed the Chalon family. With its perfect position on the cliffs, Château-Chalon offers magnificent panoramic views of the surrounding hill country and wineries in the area.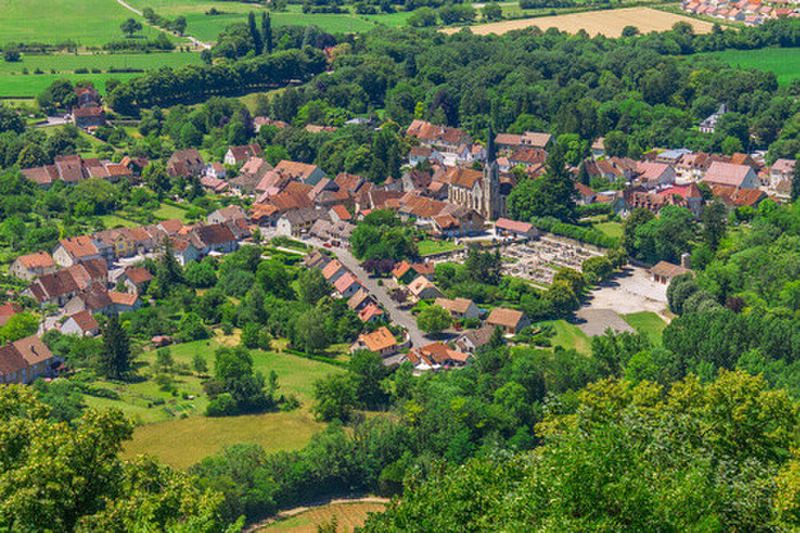 First things first: Château-Chalon is tiny. While the commune was home to several hundred people in past centuries, its recent record shows fewer than 200 residents; the French 'commune' is the equivalent of a parish town. The area is also home to a Benedictine abbey, as well as the 12th-century parish church of St. Peter. Visitors can pop into La Maison de la Haute-Seille (the House of Haute-Seille), where there is an interactive exhibit on the Jura vineyards, or peep at L'Ecole Autrefois, which houses a well-preserved historical classroom.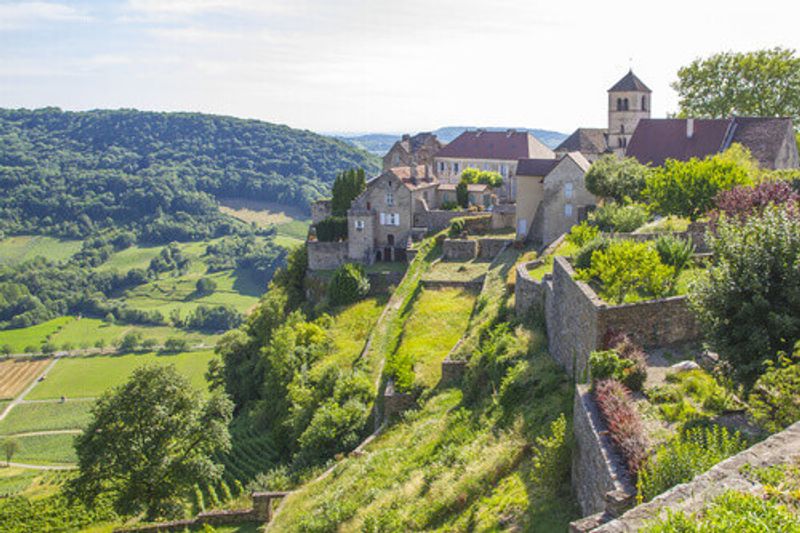 What's big in Château-Chalon is its wine. It has its own official appellation, similar to how real champagne can only be produced in the Champagne region of France. Château-Chalon is home to the grand cru (or original 'first vineyard') of its notable vin jaune or yellow wine, which means that authentic Château-Chalon wine will bear the term "AOC" or appellation d'origine contrôlée, an exclusive certification for wines produced in a specific area. This has much to do with a wine's distinct and unique terroir – the environmental and harvesting factors that impact a wine's flavour. It is said that Château-Chalon's vin jaune is one of the most unusual wines in the world, thanks to its long oxidation process under a layer of yeast; first impressions are often that it tastes quite like sherry.
Château-Chalon's wine is made from Savagnin (not Sauvignon) grapes, supposedly first planted by monks of the abbey, and is then bottled in distinctively-shaped clavelin bottles. The incredible history of wine in this area means (surprise) incredible food to go with it, with special dishes like poulet au vin jaune (chicken in yellow wine) on the menu. In 2007, a vine conservatory was established to preserve the long and storied history of Château-Chalon's wine culture – the conservatory itself has about 50 unique vines, including some rare specimens that are not commonly grown anymore.
Drink in the views – along with a glass of vin jaune, of course – and take your time exploring the commune – there are hiking or mountain biking spots for those who feel adventurous, although we don't recommend getting sloshed before setting off over the hills.