Sure, West Australians are spoilt for choice when it comes to soft white-sand beaches, turquoise waters and endearing marine life and wildlife. But we promise Rottnest Island – or Rotto, as the locals call it – is a bit special.
A protected nature reserve, idyllic doesn't even begin to cover the postcard-perfect beauty of Rottnest Island, with its dreamy swimming spots and a laidback vibe. There are 63 beaches and 20 bays on the 19-km2 island, a renowned snorkelling destination.
It's almost hard to believe this island paradise is only 18 km off the coast and a hop, skip and a jump from Fremantle or Perth. Don't forget to pack your snorkel and selfie stick!
Getting there
The ferry ride can be notoriously bumpy, but it's a short trip: about 30 minutes from Fremantle, 90 from Perth City and 45 from Hillarys Boat Harbour, north of Perth. Three companies service the island, Rottnest Express, SeaLink and Rottnest Fast Ferries. Book your ticket online to avoid disappointment, especially during the summer months.
If you're feeling really swish, the quicker (and costlier) way to make an entrance is by helicopter or seaplane. And, of course, there is the option of a private boat charter.
A short stroll from the ferry terminal, you'll find Thomson Bay Settlement, with a visitor's centre, cafes and shops. Later in the day, you'll see plenty of quokkas scurrying around here. This is the busiest spot on the island; perfect to grab a bite to eat – consider an organic meat pie from the Rottnest Bakery – and any supplies you need. There's also a small supermarket at Geordie Bay, on the northern side of the island.
Settle in
Most (about 70%) Rottnest visitors are day-trippers, but if you don't feel like sprinting for the last ferry, make a night of it and settle in to enjoy the sunset. You'll find a slew of accommodation, from basic camping to beachfront glamping and luxury hotels, however, accommodation on the island usually books up fast.
The newest digs on the island, Samphire Rottnest, are decidedly high end with luxury villas, enticing restaurants and a prime beachfront position on Thomson Bay.
Eco-sustainable resort Discovery Rottnest Island, with 83 tents behind the dunes of Pinky Beach, is a close to nature experience that doesn't sacrifice creature comforts. All tents have ensuites and outdoor decks and set the scene for a low-impact glamping experience.
Karma Rottnest is tucked behind the bakery in the settlement. Housed in an old prison, it's unfussy and well located. There's also a campground close to the settlement, a short stroll to The Basin beach.
Getting around
The entire (relatively small) island is a car-free zone, so your options are bus, segway or bicycle. Take your bike across on the ferry for a small fee, or hire one from the ferry company or on the island.
To bike around the length of the island is about 22km. There are lots of hills to contend with in the heat, so perhaps consider an e-bike for a more relaxing pedal around. Riding counter-clockwise around the island offers more downhill stints! The 4km mini loop takes in some of the most popular attractions – The Basin, Geordie Bay and Vlamingh Lookout – and can be easily done in under an hour.
There are two bus services; a hop-on, hop-off Island Explorer bus stopping at various beaches and bays as it traverses the island in a clockwise direction, and a Discovery Bus that loops around the island in 90 minutes with commentary.
Tip: you can hire (small, medium or large) lockers behind the Visitor Centre if needed.
Have a whale of a time
Some parts of the island's west end are only accessible by bike. If cycling Rottnest's entire 22km route, the island starts to narrow towards the west end and become more rugged and wild. Stop at viewing platforms at Cathedral Rocks and Cape Vlamingh to see Australian sea lions, Bottlenose dolphins, New Zealand fur seals and (from August to November) humpback whales on their annual migration.
Underwater treasures
With more than 135 species of tropical fish to spot around here, Rottnest offers incredible snorkel trails. If you don't fancy bringing your own gear, you can hire from Pedal and Flipper.
Try renowned snorkelling haven The Basin or Little Armstrong Bay, a calm, secluded spot on the north side of the island. At Henrietta Rocks, a shipwreck lies about 50 metres from the shore in the shallows. This is ideal when conditions are calm and flat.
Salmon Bay is a rich habitat for juvenile marine life. Continue around the coastline to Little Salmon Bay, at the most southern point of Rottnest – it's perfect for beginner snorkellers, with many reefs in these calm waters.
Don't fancy heading underwater? A glass bottom kayaking tour is a fun way to see what lies below.
Of course, the quokkas
These much-loved native marsupials certainly win the Most Popular award on Rottnest Island – quite the accolade, given the abundance of marine life and wildlife to gawk at here. The island's favourite resident may be incredibly photogenic and friendly (perhaps thanks to the lack of natural predators on the island), but remember not to feed them or touch them.
Despite being nocturnal animals, there are plenty around to smile at, especially in the mid to late afternoon. There are free guided walks (1pm daily, departing from the main settlement) to see the quokkas' natural habitats and learn more about these famous creatures.
Get a good look
Take a guided tour to climb to the top of nearby Wadjemup Lighthouse. The highest point of Rottnest Island offers the perfect vantage point for 360-degree views over the island and Indian Ocean – you can even see Perth City on the distant mainland. Pro tip: you'll likely find plenty of quokkas here near the 19th-century lighthouse looking for shade!
For an even better perspective, Rottnest Air offer sightseeing flights from and around Rottnest, or air-taxi transfers to and from the island (about 12 minutes each way, with the option of adding a scenic detour).
After more of an adrenaline rush? See the island from the sky and take the plunge with a tandem skydive, with up to 66 seconds of freefall depending on your chosen altitude, before a breezy ride down to land on the beach.
Pink about it
For a change from the dazzling blue coastline, there are a number of salt lakes towards the centre of Rottnest (12 salt lakes in total, five of which dry up in summer). The smaller lakes have a pinkish hue thanks to the algae dunaliella salina. Although the pink may not be as bubblegum bright as some of the state's other pink lakes, it's still a lovely hue, especially at sunrise and sunset. These lakes are part of a wetland habitat that is an important part of the island's ecosystem, covering more than 200 hectares of swamps, seeps and salt lakes.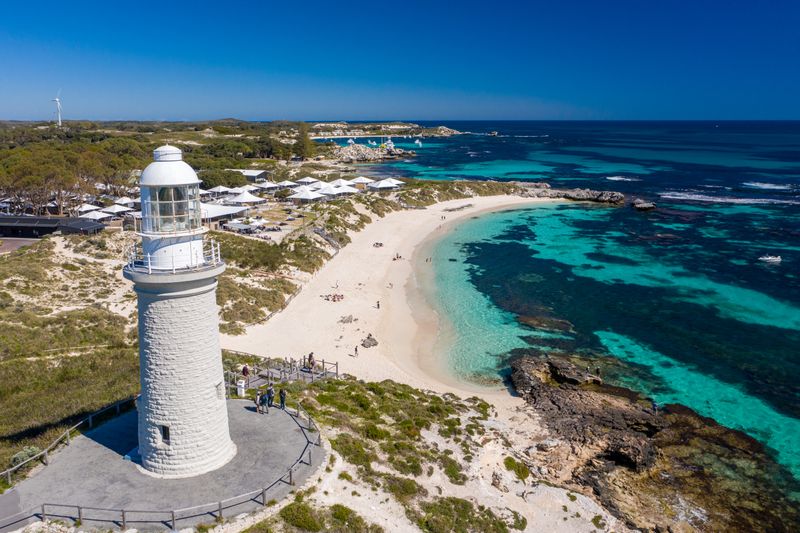 Beach hop
You'll find secluded spots and busy beaches alike scattered across the island. Pinky Beach is home to the buzzing Beach Club bar and restaurant, the perfect spot to relax with a drink and take in the views, especially at sunset if you're on the island for the night.
The Basin (easily walkable from the ferry terminal) is a popular spot, especially for snorkelling in the crystal clear, shallow waters. The sheltered waters of Thomson Bay have a roped off swimming area and are busy given the location in the main settlement.
On the southern coastline, Salmon Bay (which is popular and busy), Parker Point and Little Parakeet Bay – another great swimming beach that's a calm, shallow spot – are all delights.
A rich history
The island has a chequered history as a prisoner of war camp, a penal colony and army barracks before settling into the idyllic island getaway it is today.
If you're keen to learn more about the island's military history, buy a ticket to ride the historic train up Oliver Hill and explore the intricate wartime tunnels – still armed with huge 9.2 inch guns. This is the last remaining WWII battery in Australia.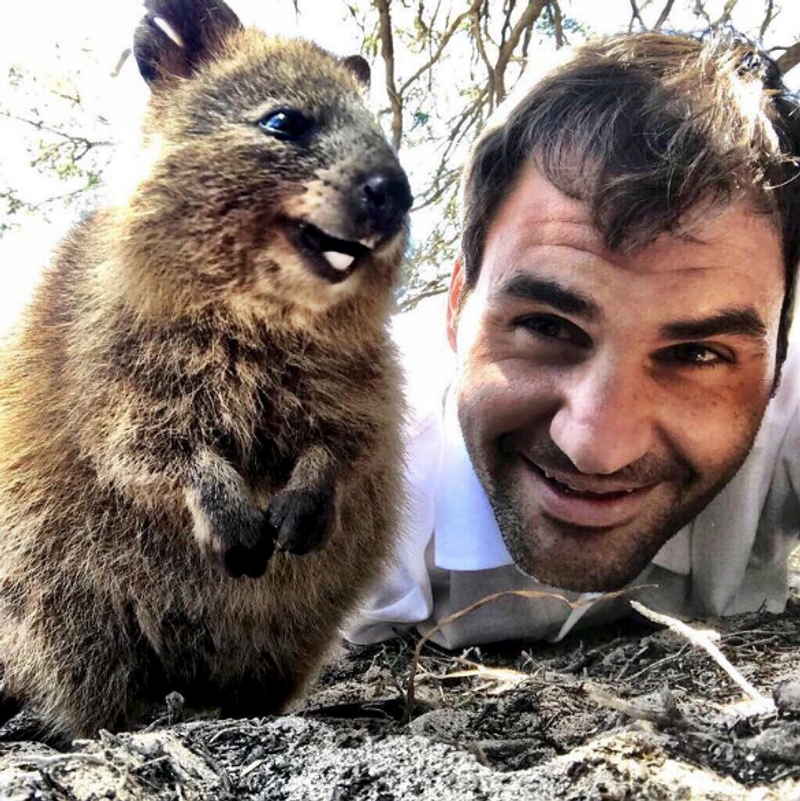 Quokka selfie: these adorable marsupials are the very definition of camera-ready
Is this the happiest animal in the world? Social media seems to think so. Everyone's snapping a quokka selfie – even Hugh Jackman and Roger Federer are in on the fun.
Although found in other pockets around the state in smaller numbers, Rottnest is the easiest place to interact with friendly quokkas. These loveable, fuzzy creatures enjoy life unhindered on the car-free, predator-free island, which might explain why they're curious creatures and not afraid of humans.
Keen to take part in this social media phenomenon? Conveniently for golden hour – which gives the best light for photography – the best time to see these WA natives is at dusk at Thomson Bay settlement. You can't miss them. Note that it is illegal to touch or feed them (even if they're hankering for scraps around the settlement). Tip: Use a selfie stick. Don't forget to tag #quokkaselfie!