Dig deep into one of Japan's most hallowed historic crafts: ceramics
Japan is known for many things, but one particularly unique Japanese craft is the art of ceramics. There are entire galleries and museums devoted to Japanese ceramics and their ancient history – one of the oldest ceramics traditions in the world – as well as private collections that belong to various temples across the country. The most dedicated ceramics enthusiasts might even plan a side trip to towns like Arita or Mashiko to get a first-hand look at traditional practices and ancient history Arita is home to a renowned porcelain lab, once known as the Yazaemon Kiln in the early 1800s. Arita is the home of Imari porcelain, named for its brisk historical export out of Imari port to the dining tables of Europe. Old Imari ceramics had a significant influence on the style of European ceramics, as continental porcelain techniques were still undeveloped at the time.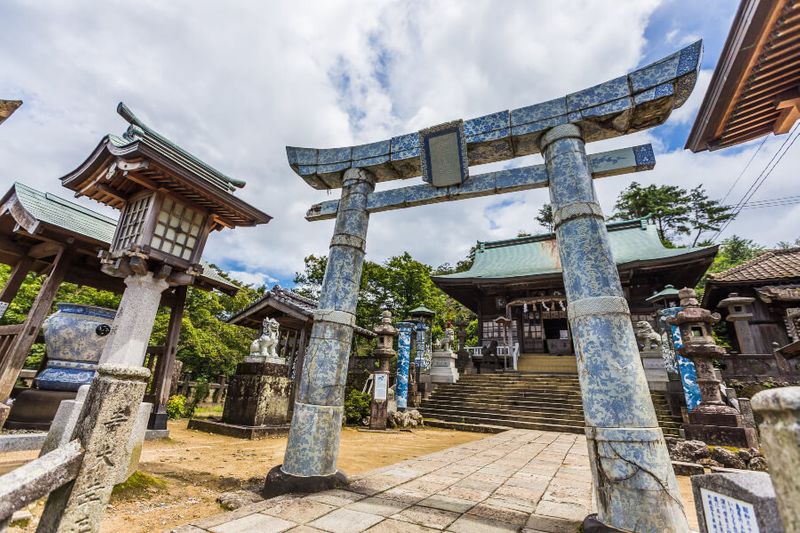 Today, distinctly Japanese aesthetics and materials have influenced many modern sensibilities around the world, including pottery and ceramics in contemporary culture. To find out more about this storied industry, we had a chat with Hiroko Mita, a Japanese ceramicist who lives and works in Singapore.
Tell me a little bit about yourself and how you became involved in ceramics.
I loved art since I was a kid, and I was actually in a school that was attached to the university all the way in Tokyo. But when I was in secondary school, my art teacher, who was like a university professor, came to my school part-time as a teacher, and he encouraged me to go to the art world. He was my first key person to guide me to the art world. I started to study more about art and I also went to America and studied graphic design there. Then I came to Singapore to get married, and when my children started to go to school, I had some time, and I joined a Japanese museum docent group. I was doing volunteer work at the Singapore Art Museum and the National Museum of Singapore. Then I had an opportunity to sign up for a pottery workshop conducted by [noted Malay potter] Iskandar Jalil. I didn't know about him at the time, but I was interested to try something different. I knew more about two-dimensional art, like graphic design and painting. I didn't study 3D. Pottery is a very popular art and craft in Japan, so I just wanted to try, and I was very fortunate that I could learn. Then, he encouraged me to continue. So I started pottery as a hobby, but now it's more than a hobby, ceramics has become my passion.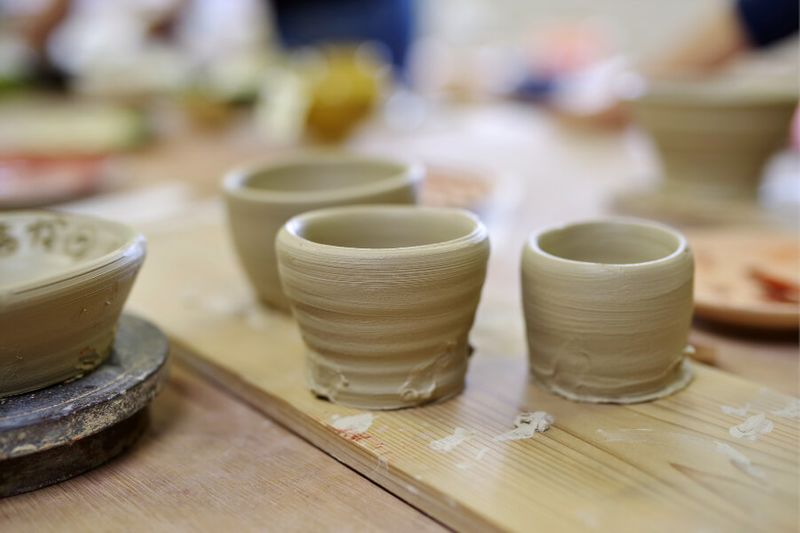 What makes Japanese ceramics unique and different?
There are many types of ceramics and pottery in Japan. One of the reasons is because of the raw materials – there is porcelain, clay, stoneware, earthenware, and high-iron clay-like terracotta – so those clays have different characters. Therefore, you can create different types of ceramics, and some have a smooth surface, rough surface, some surfaces have painting and colourful decorations, and some ceramics have raw natural surfaces. There are also four seasons in Japan. The seasons give a lot of ideas to Japanese create different works. For example, in Japanese food and cooking, people have a culture of changing the wares – so for the spring season, they try and use something to express spring, and chefs will use the wares as a canvas to express their art. So the four seasons help to give different ideas. Japan also has the wabi-sabi philosophy, which is very different from western culture. I believe you have heard of wabi-sabi (the Japanese philosophy of accepting imperfection and incompletion)?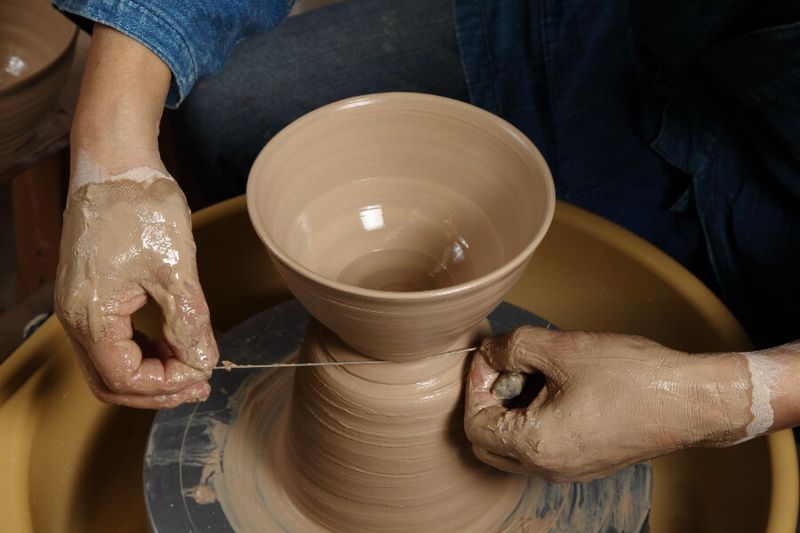 Yes, I have.
So all these very unique philosophies also create different types of ceramics in Japan.
What are some Japanese ceramic techniques?
The history of pottery is very long. The oldest pottery is from China, but one of the oldest was also found in Japan. So, a lot of [Japanese] techniques are actually from Korea and China. Because of the culture, like tea, or flowers, or zen, helped pottery culture mature. So a lot of the techniques were from China or Korea, but developed in Japan, and became Japanese techniques.
Do you have a favourite?
Actually many, a lot of techniques I haven't done before. Someday, I would like to try. Some techniques I have done before, and I liked them very much. I do a lot of brushstroke decoration, which is Hakeme. Hake is "brush" in Japanese. I like painting, so I do painting decorations, and Nerikomi (marbled wares). Japanese like to do detailed works, so some techniques are very detailed, fine decorations, which I also enjoy.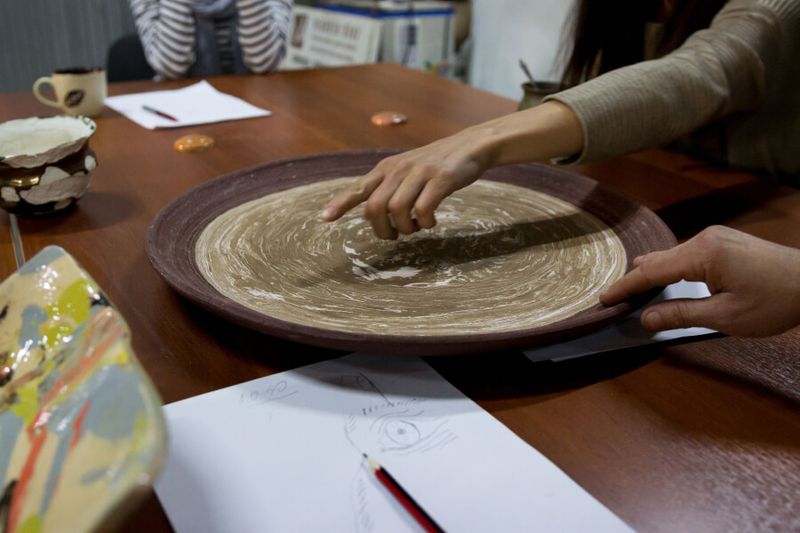 What are some areas in Japan that have special or famous clay?
One of the well-known glazes in japan is called Shino. Shino is a very white glaze, which expresses the snow. And for Shino work, people use a certain type of clay. And the other one is called Oribe, the green-coloured glaze. And the types of clay particular for this glaze – one is called mogusa clay, and the other one is gotomakitsuchi clay. Mogusa and gotomakitsuchi clays are very unique and you can only get them from Japan. Even if fired at a very high temperature, the clay itself still looks raw and fragile. So with the philosophy of wabi-sabi… it's not eternal, it looks imperfect – this clay matches very well. It is from Gifu prefecture. Another famous clay is from Mie prefecture – it's called Iga clay, from Iga city. This clay is very good for high temperatures. It is a heat-resistant clay. Porcelain is also very famous in Japan. There are a lot of artists from other countries who like to use Japanese porcelain also. One of the famous porcelains is Amakusa porcelain, and mino porcelain is also famous.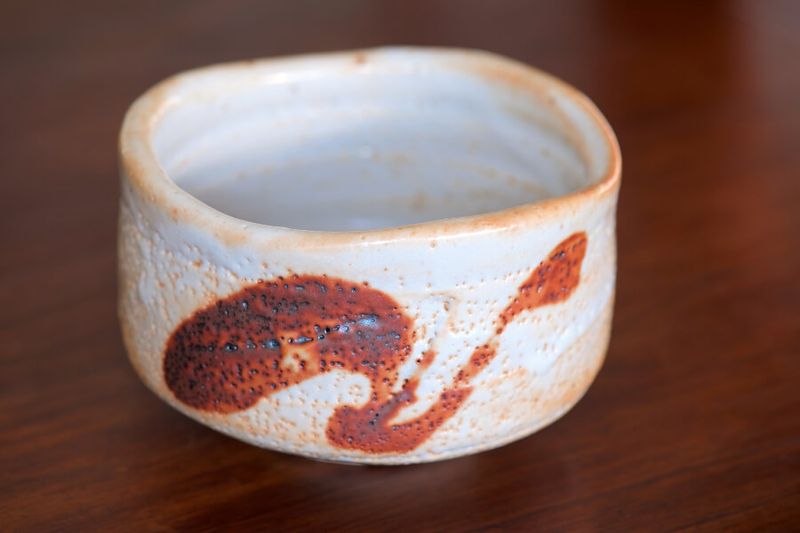 Who are some of your favourite Japanese ceramic artists?
I don't have any particular favourite artists so far, because I feel like everyone is unique and wonderful. I love everybody's work.