Sushi is one of Japan's greatest exports, and with some practice and the right tools, can be mastered at home
Historically, sushi has been around for centuries and was an easy way for people to preserve fish with fermented rice, thanks to the addition of salt and rice vinegar. One Japanese legend claims that the combination of fermented rice and fish was discovered by sheer accident, by an old woman trying to keep her food away from scavenging seahawks. Over the ages, different kinds of sushi evolved and appeared on the market – for instance, nigiri was developed in the late 19th century as a form of fast, easy food that could be easily prepared by street vendors, the first of which was an enterprising man named Hanaya Yohei. Of course, this was before anyone had modern cooling technology, so the street food smells were probably a lot more pungent, especially with stronger fermentation and preservation techniques. Today, it's an iconic part of Japanese cuisine, beloved by people around the world.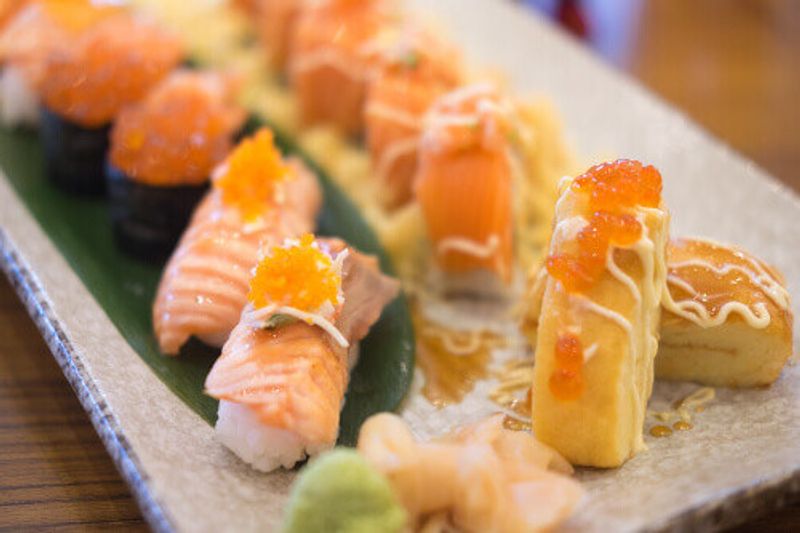 Some of the most common types of sushi include nigiri, temaki (cone-shaped hand-roll), norimaki (pieces cut from one long maki roll), and gunkan maki. Nigiri is probably the most instantly recognisable type of sushi, with a sliver of fish placed on top of a neat little oblong of rice. Uramaki is also known as an "inside-out" roll, with the rice on the outside and the seaweed on the inside, next to the filling. There are pickled elements that can be found either inside sushi, or as a side – in fact, the area of the kitchen dedicated to sushi preparation was called a tsukeba – a pickling or marinating place – which now commonly refers to a whole sushi kitchen. Other popular sushi accoutrements include juicy red fish roe, shiso leaves, and other garnishes. Little slivers of ginger are typically used to cleanse the palate between sushi bites. There are tons of other sushi variations – get adventurous and try something new the next time you're in a Japanese restaurant.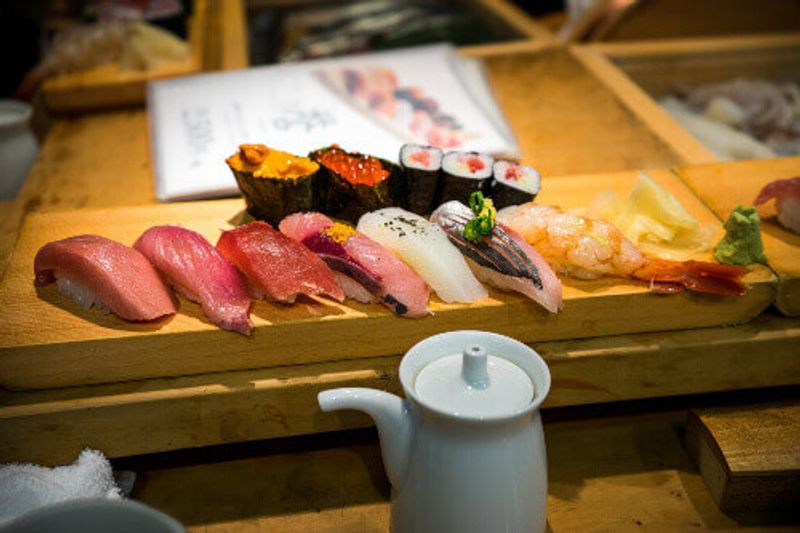 Learning how to make sushi is a neat way to enjoy authentic Japanese eats at home. With a little practice, sushi-making is easier than you might think. The essential ingredients are sheets of nori seaweed, sticky short-grained sushi rice, rice vinegar, and your choice of filling. The three essential tools are a bamboo mat, paddle, and spreader. Traditionally, the sushi rice is mixed with rice vinegar and a touch of salt and sugar in a flat-bottomed tub called a hangiri, and then left to cool. The secret to good sushi really is in the rice, so the rice mixing is a crucial step. Common fillings or toppings are fresh, raw fish (naturally), thinly-sliced veggies, or a fluffy blanket of tamago (egg). When assembling nigiri, a tiny dollop of wasabi is used to anchor the fish to the rice; the proper way to eat nigiri sushi is to dip the fish side (not the rice!) in soy sauce. The easiest home sushi method is to roll a long maki in the bamboo mat, then cut it into slices. A good trick is to dip a knife in rice vinegar water before slicing it up.