From volcanic peaks to lush rainforest, pristine lakes, towering waterfalls and long empty beaches, day walks offer it all
Want to explore New Zealand's great outdoors but have limited time? Day walks are the answer. Some walks are easy, while others require a good level of fitness, but New Zealand really is the place to get your shoes on and let your legs do the, err, walking.
Here, 6 day walks to tick off, graded from easy to moderate to moderate or difficult.
1. Scale a volcanic peak, Auckland
Some 600 years ago, volcanic Rangitoto Island erupted violently from the seabed in the North Island's Hauraki Gulf, just off Auckland. These days, visitors to the peaceful, predator-free island arrive by boat, and either walk or take a 4WD road-train to the 260-metre-high summit. In spring and summer, the island is covered with red-flowering pohutukawa trees (used to produce honey), contrasting against the stark grey lava surfaces.
Grade: easy
Travel tip: regular ferries to Rangitoto depart from Auckland's ferry terminal and from Devonport wharf. The trip takes about 25 minutes and you should aim to spend about half a day on the island.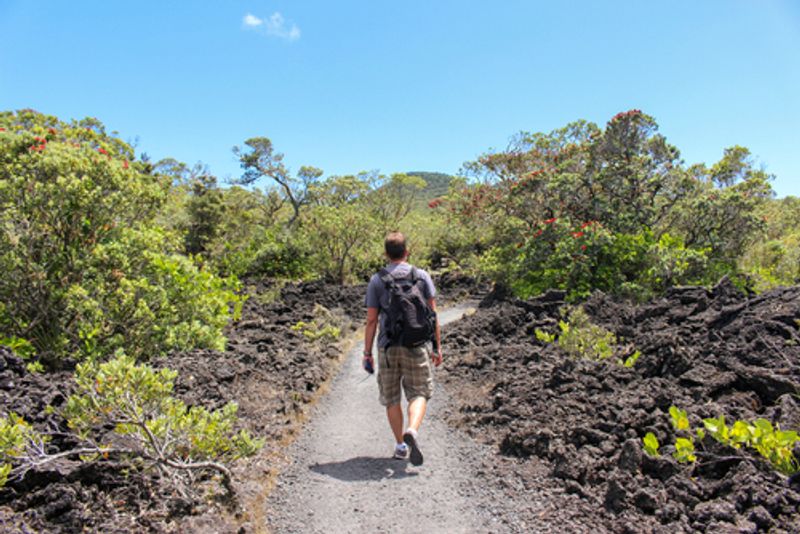 2. Luxuriant rainforest and lakeside, Te Anau
Fiordland is famous for multi-day walks such as the Milford Track, but you can appreciate the national park's special environment on an easy day walk from Te Anau. Starting at the Fiordland National Park Visitor Centre, the walk takes you around the southern side of the lake past the Te Anau Wildlife Centre (where you can see the curious and endangered takahē bird), and through tussock grass to the control gates of the Manapouri Power Station. From here, follow the Kepler Track through primeval rainforest as far as the Dock Bay picnic area, and return the same way.
Grade: easy
Travel tip: Te Anau offers plenty of lakeside accommodation and has a relaxed vibe. As well as trips to Milford Sound and Doubtful Sound, you can take a lake trip to see glow-worm caves.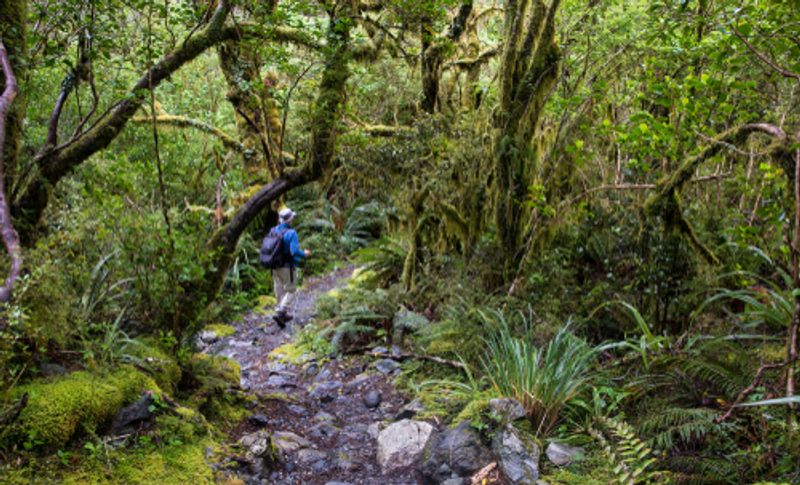 3. Follow in the footsteps of pioneers, West Coast
Flourishing native forest, a wild river, roaring waterfall and dramatic gorge meet pioneering history on the South Island's Charming Creek Walkway. Miners and loggers built a railway through the perilous terrain in the early 1900s. It closed in 1958, but the remains of old engines and carriages can be seen, partially buried in the bush. On a fine day, the 'creek' tumbles amid boulders through a rocky canyon and, after rain, views of Mangatini Falls reveal a seething, angry torrent. Rain or shine, the walkway is dramatic.
Grade: easy
Travel tip: starting at Ngakawau, 35 km north of Westport, you can walk the track and back in a day (19 km, graded easy). You can also start from the northern Seddonville end.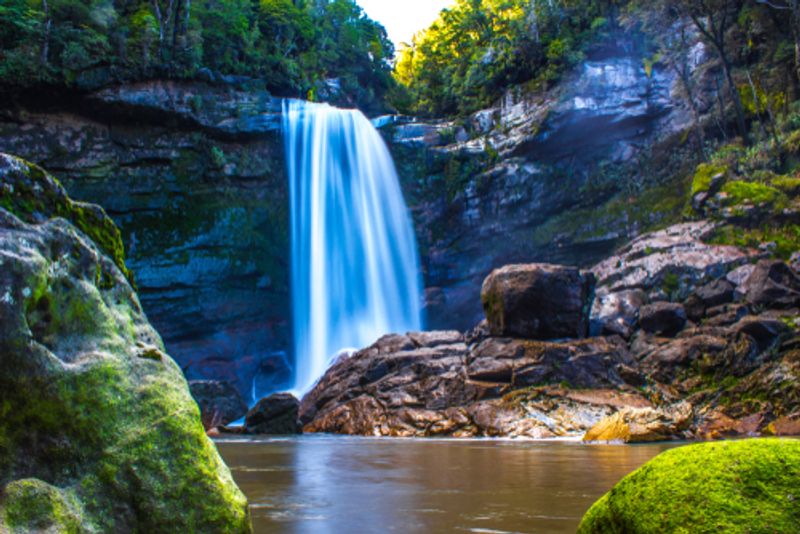 4. The top of the south, Nelson
Imagine crossing from New Zealand's east coast to the west coast in a matter of minutes. You can at Farewell Spit, the narrow strip of land that forms the northern tip of the South Island. The west coast side is wild and rugged, punctuated by offshore islands, sea caves and long stretches of empty beach; the east coast side takes in panoramic views of Golden Bay. Farewell Spit and Puponga Farm Park offer a variety of walks, with the Puponga Hilltop Track taking about three to five hours one way. You can also do part of the track.
Grade: easy to moderate
Travel tip: main parking areas are located at Triangle Flat or at the end of Wharariki Road, which is unsealed. Access to the majority of Farewell Spit itself is controlled. Take an eco-tour to appreciate the beauty and diversity of this fragile coastal environment.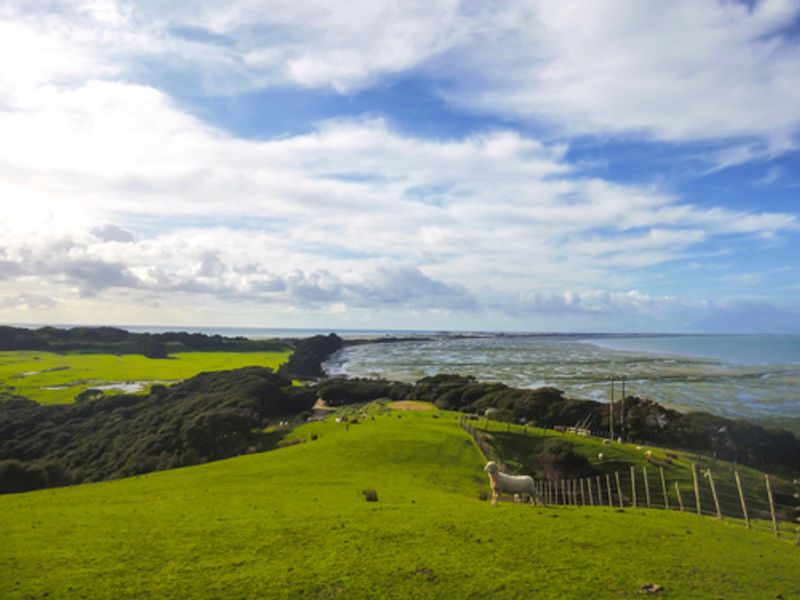 5. The view from up high, Wellington
The Kapiti Coast, north of Wellington, captures contrasting vistas of rugged Kapiti Island – once the stronghold of Māori warrior Te Rauparaha – and the bush-clad hills that fringe the capital city. The Paekakariki Escarpment Track, part of New Zealand's Te Araroa Trail (The Long Pathway), climbs 220 metres above sea level. Starting from Paekakariki beach, you take an underpass beneath State Highway 1 before heading through coastal forest and around a rock face. A narrow zigzag path then climbs steeply to the summit lookout. From here, it's all downhill, through native forest and over two swing bridges, then follows the rail corridor and finishes at Pukerua Bay Railway Station.
Grade: moderate
Travel tip: the one-way walk covers 10 kms and takes three to four hours. Part of the track leads through private property, so dogs, bikes and motorised vehicles are not permitted. You will need to arrange pick-up transport at the other end. The Kapiti Coast offers long stretches of beach, as well as plenty of craft shops and restaurants.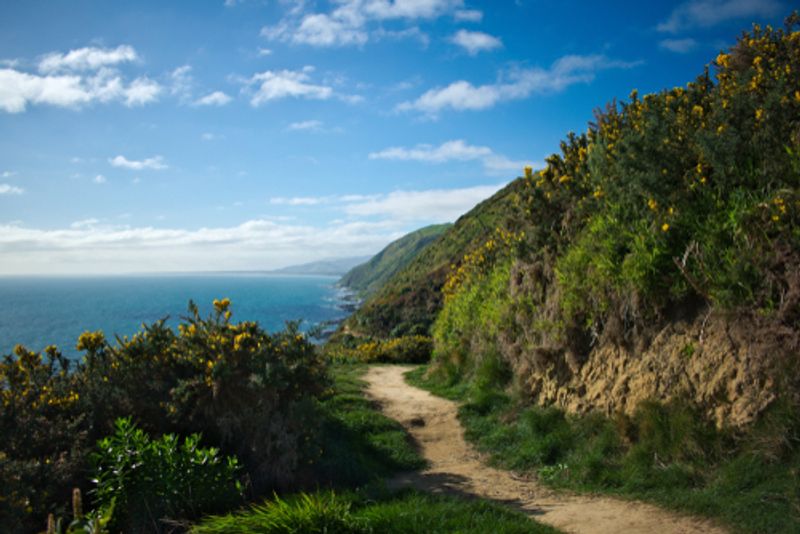 6. Round the mountain, Taranaki
On the west coast of the North Island, Mt Taranaki's near-symmetrical cone is often compared with Japan's Mt Fuji. Meaning 'Gliding Peak,' Taranaki holds spiritual significance to Māori people. The Pouakai Crossing walking trail takes you past dramatic landforms, including the lava columns of the Dieffenbach Cliffs and the seemingly enchanted trees of the Goblin Forest. While you're in Egmont National Park, you can also make a side trip to Bells Falls and a mirror-like alpine tarn for a picture-postcard view. Towering high above, the peak of Mt Taranaki provides abundant photo opportunities.
Grade: moderate to difficult
Travel tip: the Pouakai Crossing is a 19-km one-way walk, so you will need to arrange transport to the trail. Guided tours are available, or you can follow the signposted track independently. Be warned, the crossing demands a high level of fitness and can take up to nine-and-a-half hours. Depart from the Egmont National Park Visitor Centre, south of New Plymouth.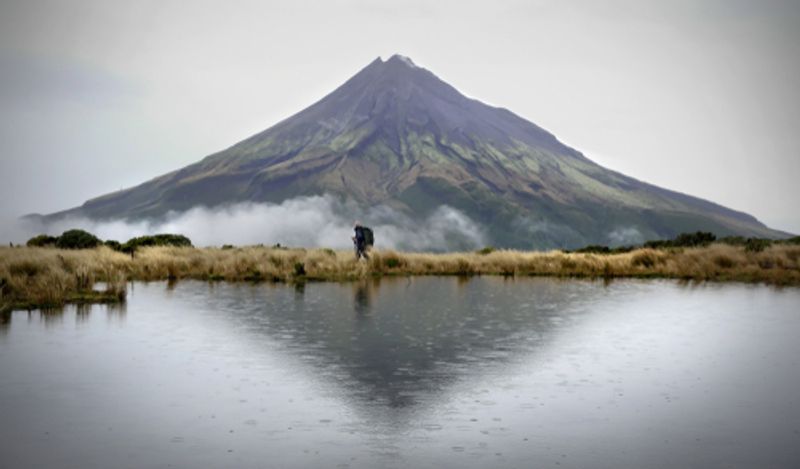 Credit: Tourism New Zealand